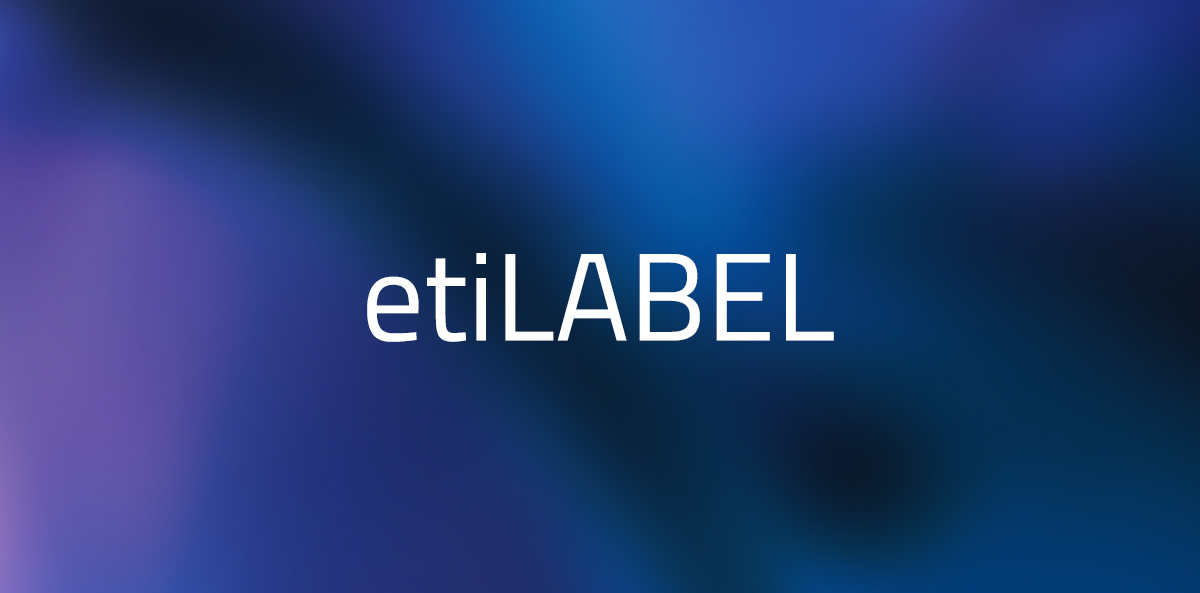 etiLABEL – program for designing and managing labels. Design and print like a professional!
31 Oct 2023 - Adam Nowacki
Printing and designing labels – some time ago you would have outsourced this task to a specialized printing house. However, there are situations (e.g., ad hoc need, small print run, rapidly changing templates) which require the use of this information carrier "here and now." The solutions offered by Etisoft allow you not only to print labels yourself, but also to design them. Especially with users who rely on independence in mind, Etisoft has created etiLABEL software. Which means that:
you design yourself
you print
you archive the design and printout for possible future actions.
How etiLABEL, an original label design program, works
etiLABEL is an indispensable tool, especially in production and logistics, which enables you to create legible labels quickly, because in accordance with the template. It allows you to create labels with a wide variety of content, including all the necessary information. To do this, the employee needs neither IT training nor graphic design skills.
Find out the differences between the different versions 
Serial printing without the error risk is fast and almost automatic. The applied WYSIWYG (What You See Is What You Get) technology makes it possible to faithfully reproduce on the printer the label view displayed on the screen.
To generate labels yourself, apart from etiLABEL software, you also need a thermal transfer or thermal printer and consumables (printable labels and thermal transfer ribbon).
Designing labels – do it yourself!
Currently, Etisoft offers the following etiLABEL versions: Lite, Basic, Standard, Medio and Professional. These fully professional tools differ in functionality. Thus, there are aimed at a variety of users to fully meet their needs for self-design and printing labels possible: from basic label versions to RFID labels.
Download the demo version. Install the free etiLABEL Lite!
etiLABEL allows you to quickly prepare templates for printing and dynamically change their content including bar codes, 2D codes, graphic images, date, text. It is also automatic serial numbering, database operation and encoding of labels with RFID tags.
The available range of elements that can be placed on the label includes simple geometric shapes such as frames and filled rectangles as well as more complex elements: lettering created with True Type® fonts and the printer's system fonts, bar codes (among other things, EAN 13 and code 128) and graphics created by users.
The most chosen version is etiLABEL Standard which provides a very wide range of operation options and allows you to be fully independent from printing house services.
At any time, depending on your needs, you can purchase a higher version of the software, such as etiLABEL Professional. This version allows you, among other things, to prepare the design of logistics labels compliant with the GS1 standard.
Each higher version has the functionality of the basic version but is expanded with more advanced features.
Which printers does the etiLABEL program support?
etiLABEL is a professional tool adjusted to support thermal and thermal transfer printers of the leading producers such as: Citizen, Zebra, TSC, Printronix, Honeywell, Sato, Toshiba-Tec, Avery Dennison or Godex.
For some models, we offer support through ZPLR. emulation. It is also worth knowing that the Lite version of etiLABEL software is included with printers purchased at Etisoft.
What customers pay attention to when using etiLABEL – benefits for your company
Among other things, they include:
cost reduction through elimination of risk of defective printouts
organizing the chaos resulting from managing too many labels, updating them, and creating more versions
streamlining the circulation of labels and their management.
possibility of delegating a task to an employee without graphic and IT skills – all you need is the intuitive use of a simple interface.
Ask about a streamlined implementation
Software, printer, consumables, all from a single source – click for a quote!