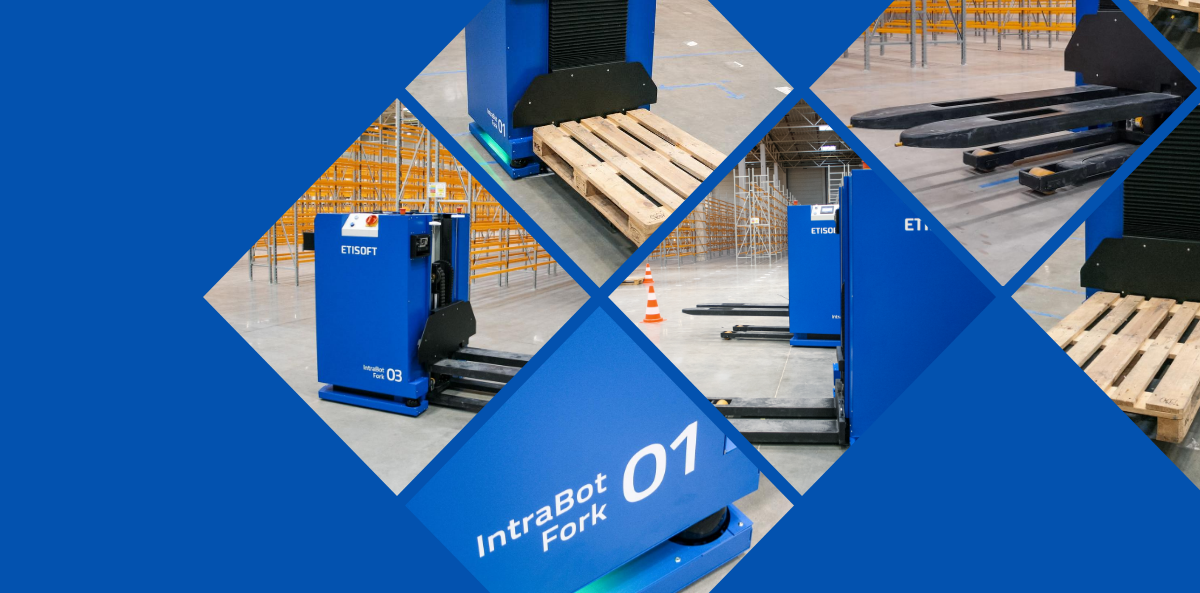 Autonomous IntraBot Fork 1100 forklifts already in operation!
8 Feb 2023 - Jarosław Hławiczka
Traditional forklifts operated and steered by humans are at the heart of most logistics operations and used in virtually every possible industry. One dedicated alternative solution for material handling automation and other functions are autonomous forklifts. From this text you will learn what type of work such a vehicle can perform and what you will gain by introducing it into your warehouse processes.
We present another model of an autonomous robot issued by Etisoft Smart Solutions, a manufacturer and integrator of intralogistics systems. IntraBot Fork 1100 forklifts have been implemented at the leading manufacturer of foil packaging where they operate in a 24/7 plant.
How an autonomous forklift helps in warehouse processes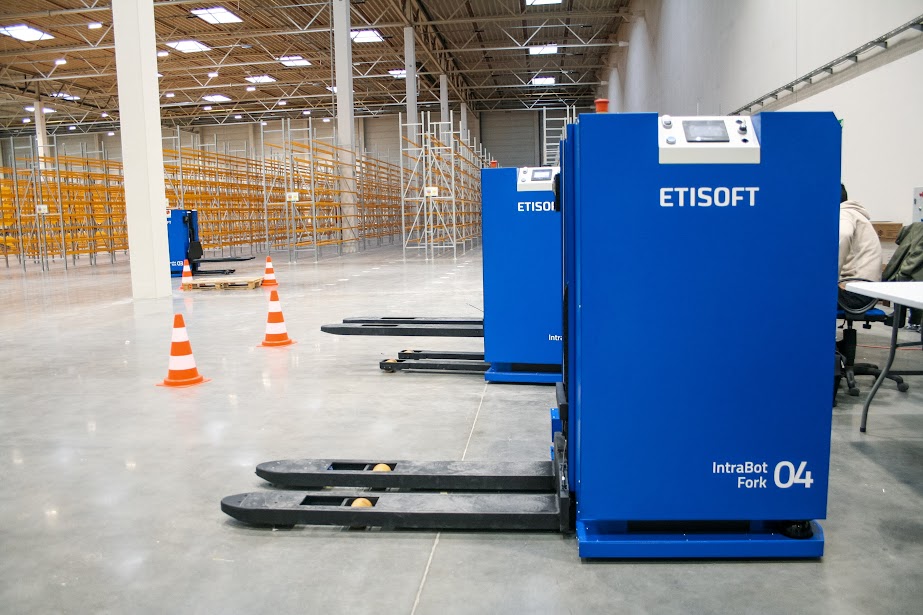 It can perform such work as carrying pallets, baskets and other logistics units picked from the floor without the need for an operation as in the case of traditional vehicles. Given the increasing difficulty with accessing human resources and the ever-increasing cost of employment, this is a very promising solution for modern manufacturing and warehousing.
The key features:
The robot is equipped with a lifting mechanism and is adapted to carry EPAL pallets (120 x 80 cm and 120 x 100 cm) and standard baskets compliant with the PN-EN 840 standard, which are attached to a dedicated platform (138 x 96 cm)
It can carry loads of up to 1,100 kg
It retrieves logistics unit from the floor.
Basic functionalities:
It moves autonomously with its own navigation,
It is equipped with an advance safety system that consists of, among other things, a number of sensors that provide information about encountered objects, approaching workers and the presence of the load,
Robot missions are controlled via an application and touch panel,
Information on the robot is available on paging boards and terminals,
The devices are compatible with other Etisoft products, e.g., infrastructure, vision systems, robotic systems, and software.
What kind of tasks can you "outsource" to such a vehicle?
Exemplary missions: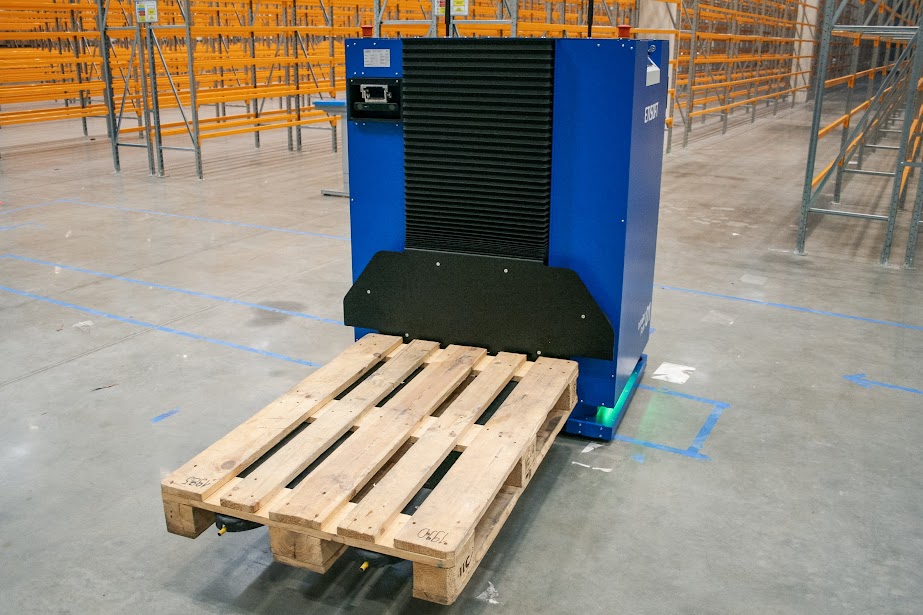 Pick up goods from the production station
Transport finished goods to the warehouse
Deliver components to production stations
What measurable benefits can you gain from "employing" such a worker?
Precise autonomous operation speeds up all production and warehouse processes such as material handling, receiving and issuing loads or any other logistics operations
Predictability of a particular process increases and the process shortens
Problems such as confusing locations, lost loads and crashes are eliminated
Losses resulting from damage or destruction of goods during transport are limited to the minimum
The robot can operate 24/7, which makes it possible to delegate the staff to other tasks.
Integrated intralogistics system awarded in the competition
The need to automate production and warehouse processes has been a subject we have been hearing about more and more frequently and more loudly in recent years. Self-propelled fork lifts are a solution that will be perform perfectly in modern companies.
If you are wondering whether autonomous vehicles are right for your warehouse, please contact us! As a designer, manufacturer and integrator, we have knowledge and experience in implementations for Industry 4.0.