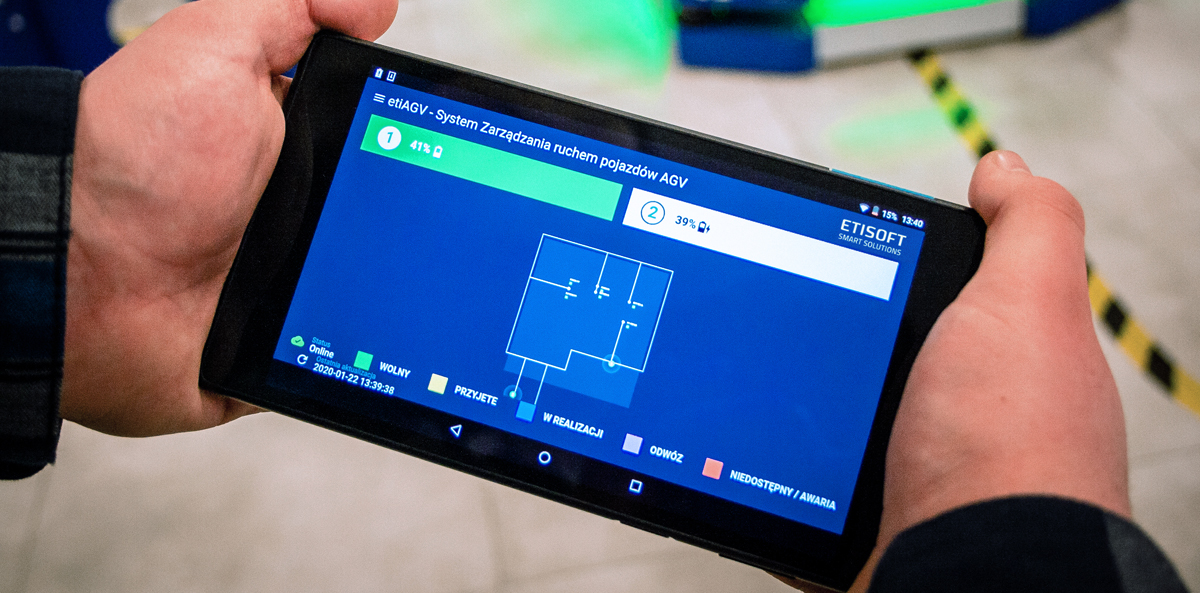 5 key functionalities of software in the intralogistics system
30 Sep 2022 - Dominik Ługowski
When managing many robots in a process of varying degrees of complexity, you come across many challenges that are quite a feat for robots. How can you define whole missions comprised of many steps related to one another? What if different missions concern different groups of robots? How do you manage traffic so that it is as optimal as possible in terms of time, the energy you have to spend to complete the mission, or the risk of congestion? Fleet of robots have their own rights. Just like on the road, without well-defined traffic rules, traffic lights, roundabouts and speed limits, large groups of robots would not be able to move in an efficient and safe way. The master system provides a solution to these challenges.
The software which manages the vehicles, like the robot software itself, is very diverse. This results both from the need to ensure high flexibility and scalability of the solution and the approach adopted by the manufacturer. We can after all talk about situations in which robots are controlled by a central "brain," but we can also consider the case of completely diffused responsibility in which robots, like a swarm, will organize themselves. Each approach has its advantages, but there are also challenges it must face.
Regardless of the type of philosophy of value delivery selected, there are still many areas that will impact on the system. Each customer is slightly different, but the problems remain in a similar spectrum.
Modern software architectures make it possible to break down the whole huge area of in-house logistics into smaller, better understood processes. Etisoft Smart Solutions is following this path. The systems created by our employees have been divided into several major subsystems (which are in fact also divided into smaller fragments):
1. Robot management
The first system is IntraFleet. It is a robot manager that manages their business logic, accumulates robot actions into missions meeting customer requirements. What is more, it manages and monitors the movement of robots and queues orders, organizes robots into functional groups, i.e., fleets. This is not all it offers; however, it should be assumed that these are its most significant tasks. You can use it in almost every system, many of its advantages support work even if the process requires the use of one robot.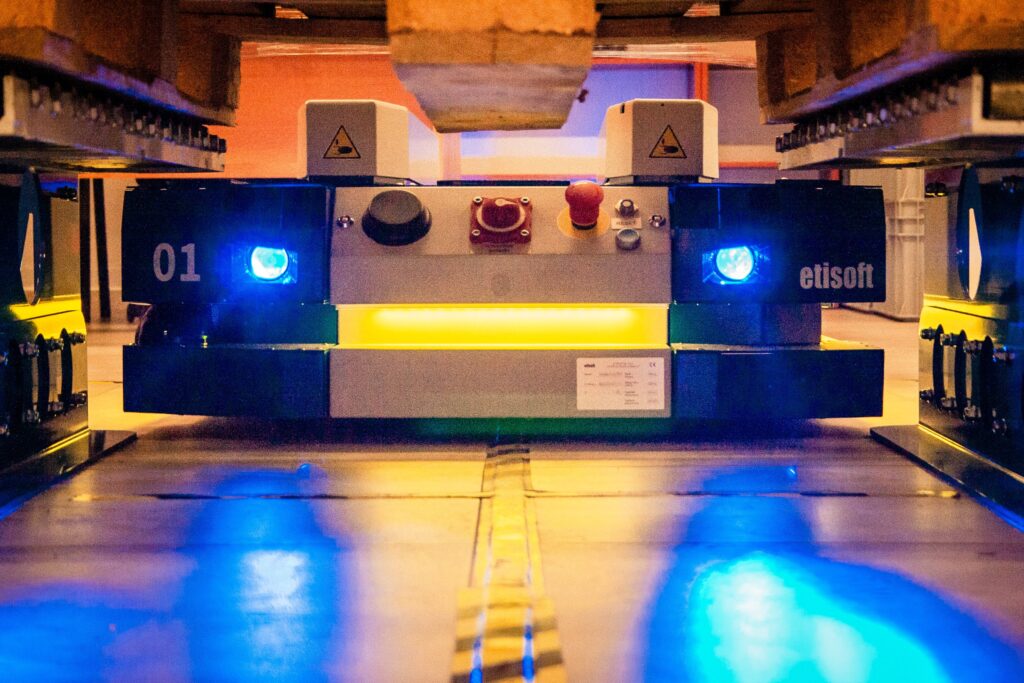 2. Methods of mission generation
Orders, or information on the need to use a robot, must be generated in a proper way. Here, four options emerge, each suitable for a different scenario.
In the simplest systems, where the process requires only a call and the robots themselves do not interact with workers, a dedicated IntraFleet module that makes it possible to generate the corresponding operator panel as a website is sufficient.
In more difficult cases, it is possible to connect dedicated operator panels that can have a greater number of functions, especially when the operator must confirm that the robot can move further away.
And what about when multiple signals have an impact on the generation of a single mission? When the right relationships need to be investigated or the right sequence needs to be ensured? This is solved with a module that does not deal with the transportation itself, but with the preparation of the appropriate plans for missions. The order manager we mention here will be an essential component of high-complexity systems.
3. Integration with the existing systems
Most plants in which robots are to appear are in a way already automated. During the development work to date, a decision has been made to automate purchasing, warehouse, and many other processes, which so far required many documents or labor input. Can ERP, MES or WMS systems be integrated with the new system? Can automation equipment, machines and manipulators also communicate with the new factory purchase?
It would be obviously absurd to require the systems to be replaced. Thus, there is a possibility of integrating them. Experience shows that each time it looks slightly different. This option must be adjusted to a specific customer. However, you must keep in mind the fact that this may slightly extend the time of potential implementation.
Integration is carried out using specially prepared adapters, regardless of whether the external systems are supposed to notify about the status, trigger missions and influence their course or receive reports and information about moved loads. You can think of them as interpreters who, understanding many languages, interpret the meaning of the words of two people talking. So, why won't the ESS systems themselves speak multiple languages? The justification is simple. There are many protocols, many buses, many specific customer requirements. Therefore, it is better for the adapters to remain a separate component that is used only when necessary.
4. Process visualization and reporting
A good transportation robot management system not only provides the transportation of the load. It should also make it possible to draw conclusions, provide data allowing you to search for further process optimization.
The software described so far can be extended with reporting modules and solutions that make status presentations such as dedicated panels and synoptic boards possible. This modular, highly granular solution makes it possible to adapt relatively quickly to the specific requirements of a particular plant and precisely deliver the data which are needed without unnecessary information noise.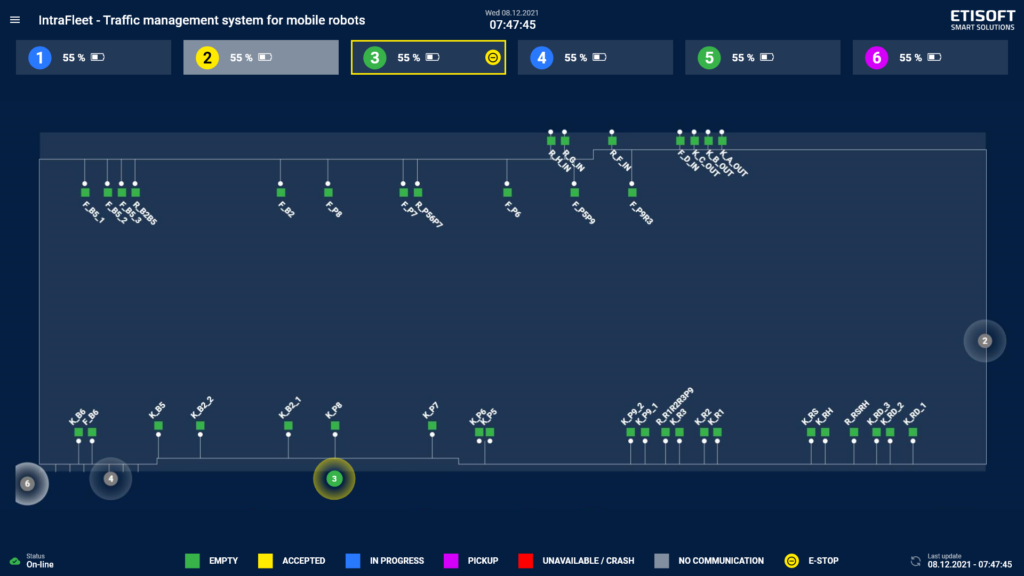 5. Unusual requirements, is that all we can offer?
If none of the systems we offer meets certain unusual requirements, it is possible to extend the offer with a dedicated software. Of course, this is not a simple process and, depending on its complexity, the time of delivery of such a solution may slightly extend the implementation time and increase its cost. Nevertheless, our standard software has been thought out in such a way that the process is as quick as possible and does not require changes to our products.
If you are looking for an expert who is not afraid of taking up challenges when implementing robot systems, contact us!