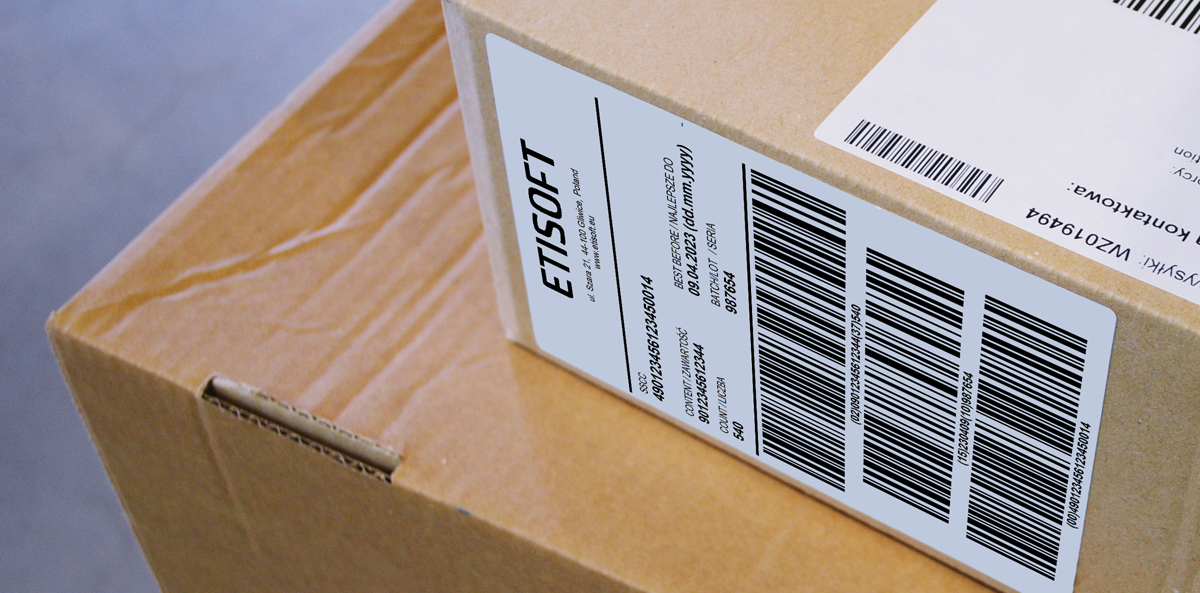 Logistics label GS1- consistent labelling system
11 Jan 2023 - Dariusz J. Kawecki
Correct marking of consignments
Perfect deliveries. Quickly, at the right time, in the right place, without mistakes. In addition, quick acceptance, registration in the system, etc. This is what we expect. All this has been possible for a long time and yet it does not always work. Why? Of course, there can be many reasons, as well as many ways to eliminate them. We just do not always use them. Logistic label GS1 – what it is worth knowing.
One solution is to label your shipments properly. How many times have we met with handwritten packages? Not only is it not very aesthetic, but also difficult to read.
Another time we get shipments "nicely marked" with a code or even a few bar codes, almost ideal… . That's almost it, because in the end the symbols and codes say something only to the person who generated them. So they worked great… for the supplier and for the customer not necessarily (because he has his own system of marking).
A coherent marking system known as the GS1 logistics label
And yet for many years there has been a consistent labelling system known as the logistics label GS1. The problem is only the number of companies that use this global solution.
As you can read on the website of the Institute of Logistics and Warehousing in Poland, only 4% of GS1 system participants use labels in this standard. Meanwhile in the Scandinavian countries it is 90% of all labels on pallets in distribution and warehousing.
What is the GS1 logistics label?
The institute of Logistics and Warehousing defines it as follows:
Logistic label GS1 is a carrier of information in the supply chain, in which all participants (producer, carrier, distributor, retailer) communicate in a common language. This communication is possible thanks to the application of the standards of the global GS1 system.
The GS1 logistics label usually contains a lot of printed information in both legible and coded form using GS1-128 standard codes (not to be confused with standard 128). The only mandatory element on this label is the SSCC (Serial Shipping Container Code). It is a unique number identifying logistic units in the world.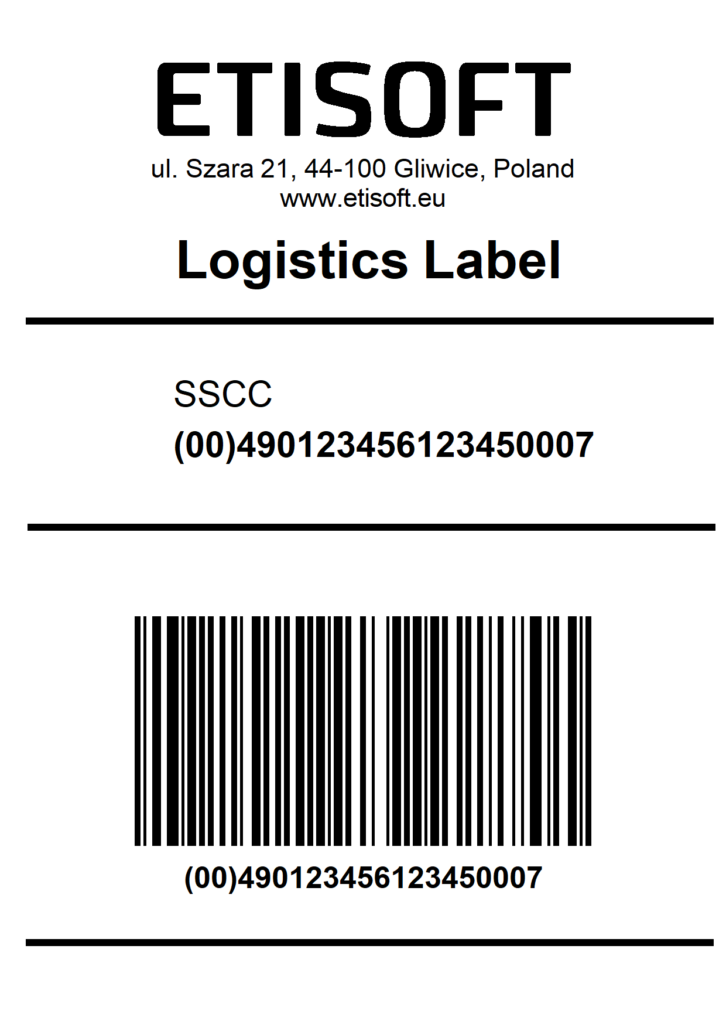 Application identifiers for logistics labels
Such a label, of course, can and usually has additional information codes. This includes information about the content of the shipment, quantities, weights, or dates of production or expiry date. All this is described using the so-called Application Identifiers (AI).
The prefixes (2, 3 or 4 characters) preceding the relevant values determine the type of information to be followed and the format of the information. For example, the code with the prefix 15 – (15)190702 tells us that the product is "the best before" 2 July 2019. The number of prefixes exceeds one hundred and allows us to describe a shipment with information including, but not limited to, different dates, measurements, sizes, suppliers and delivery locations.
All this information is usually on a standard 148×210 mm label or sometimes on a smaller version of 105×148 mm.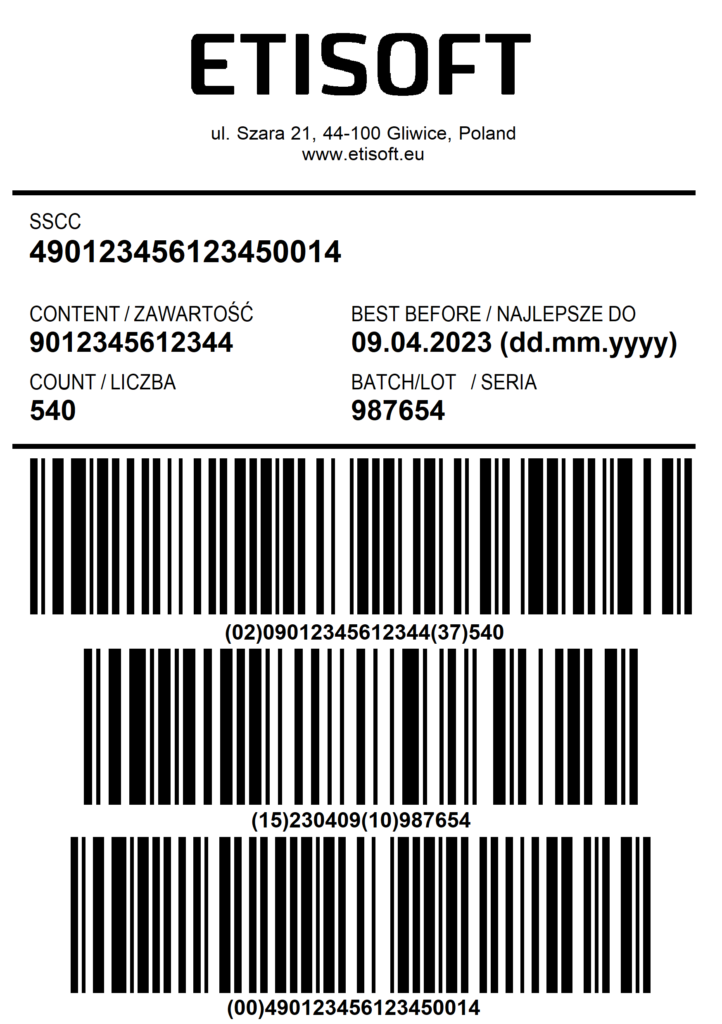 Although it seems difficult to get through the General Specifications of GS1 (a document describing on more than 500 pages not only the principles of GS1 standards application, a detailed description of all IS, but also guidelines concerning e.g. placing labels on various types of products, or the principles of validation in AIDC (Automatic Identification and Data Capture) systems seems to be a difficult task, in practice the implementation of the system itself is not so complicated.
It is important that thanks to this not only do we become a part of the global system of exchange of business information, but also, or perhaps above all, we benefit from measurable benefits in our company: from organizing warehouse processes, and consequently shortening the time of operation, or increasing throughput, to increasing the profit of the company.
If you are interested how labelling paletts – we invite you to read an article.
Do you think that GS1 logistics labels are something that you should get to know better?