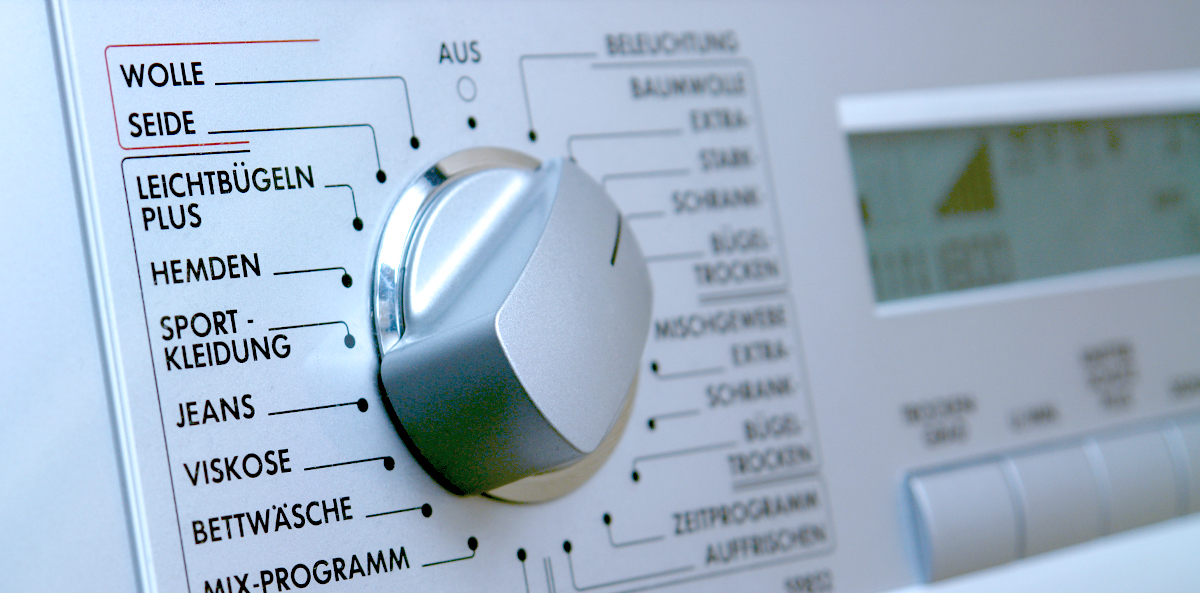 Industrial printing on plastics and machine components
30 Mar 2021 - Tomasz Gałecki
Screen printing and pad printing in the automotive, household appliances and audio & video devices industries
Nowadays, high market requirements and expectations and a constantly growing competition pose huge challenges for companies at every stage of production. In many industries, especially in the household appliances/audio & video devices/ automotive industry, industrial printing constitutes an integral part of the production cycle which gives products their functional features and is used for decorating and marking finished goods. It may be boldly stated that industrial printing is currently an integral part of almost every product.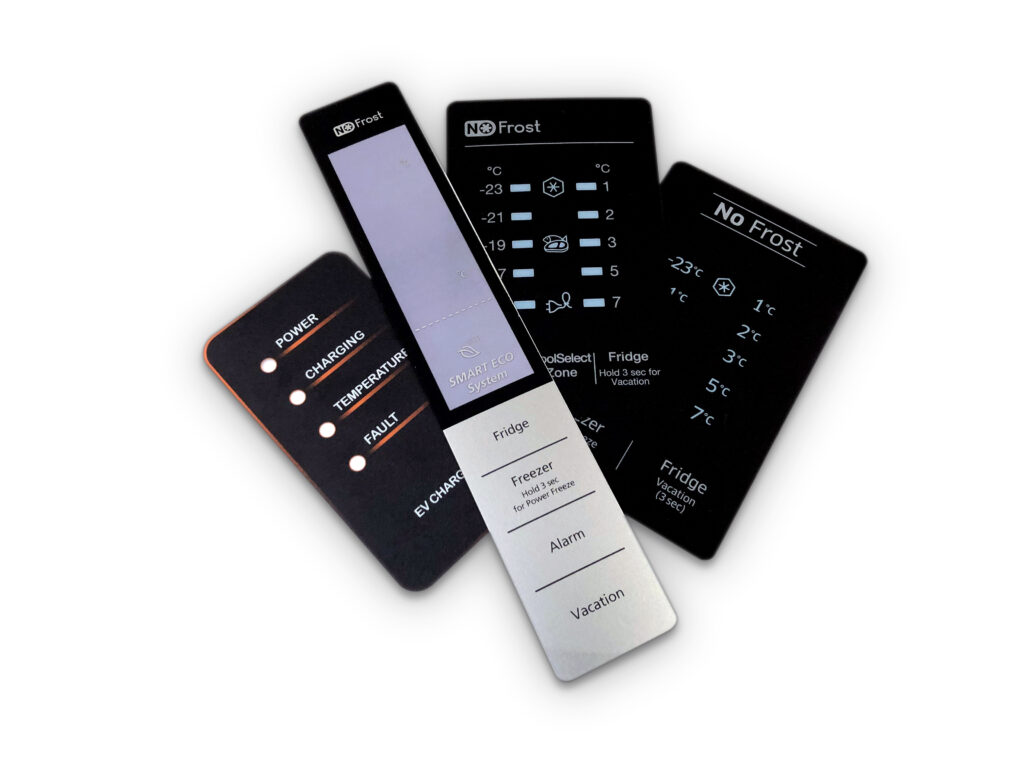 Precision and durability of printing items with unusual shapes
One of the most widespread and continuously improved industrial printing technologies are screen printing (also known as serigraphy) and pad printing. Despite modern ink-jet digital printing technologies, which are conquering the advertising market, these two traditional printing technologies are and will remain irreplaceable for many years to come. Apart from speed, efficiency and exceptional precision of printing, their advantage is the possibility of exceptionally durable printing on items of unusual shapes, made of metal, glass, plastics, composites, rubber, wood, ceramics and textiles. There are practically no limitations when it comes to substrates and their shapes. In each case there is a possibility of using one of the above-mentioned printing technologies. What makes them even more outstanding is the possibility of using inks of special properties selected for specific substrates, using custom mixed colours, using structural inks and varnishes, applying special adhesives or varnish coatings of specific thickness to the selected surface.
Screen printing in the production of touch panels and control panels
Screen printing is undoubtedly one of the most popular and most important technologies of industrial printing. It is also one of the most versatile and flexible printing technologies. It can be used in many branches, apart from the typical printing, advertising or clothing industry. It has been used for many years in the electronics industry where it is used, among other things, in the production of the so-called printed circuits (plates with printed tracks), to which electronic components and elements are mounted. Such devices as smartphones and tablets also could not work but for the screen printing used in the production of touch panels. In the recent decade, screen printing has become an unquestionable leader in the production of consumer electronics. This technology is second to none and it allows you to achieve exceptional durability and precision of printing. It is not surprising that it is also widely used in the automotive and household appliances industries. It is commonly used in the production of, for example, car counters and finishing and decorative elements imitating wood or metals. It is also used in the production of control panels for washing machines, fridges, cookers and other electrotechnical equipment.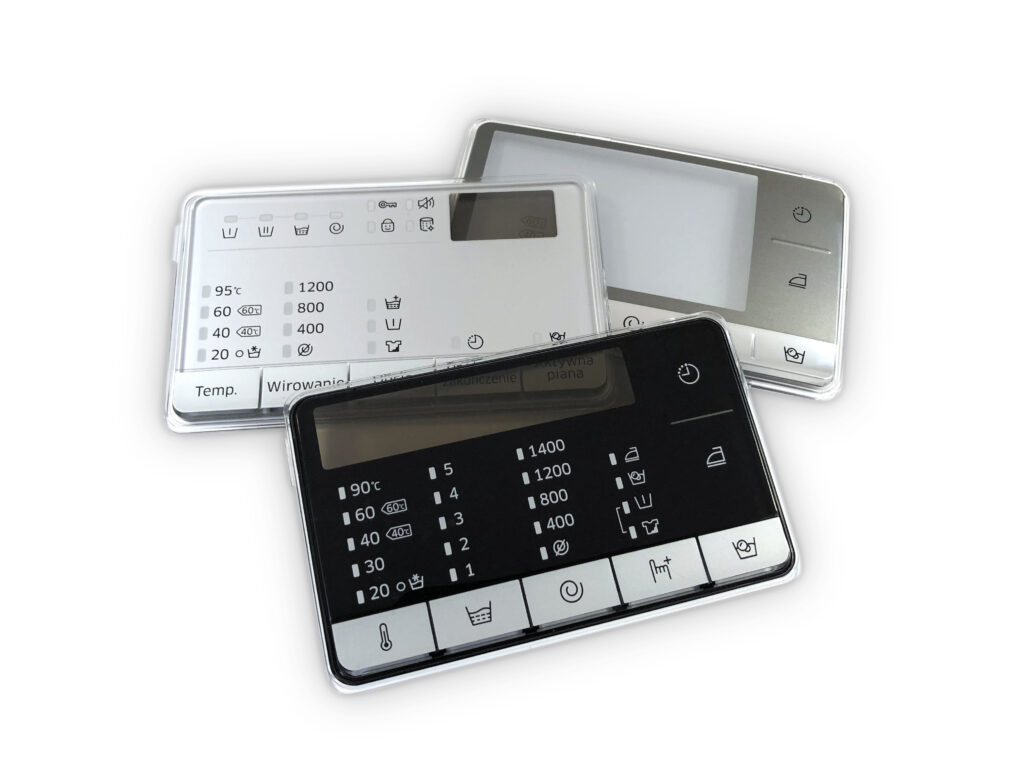 Screen printing technique – how is it done?
In screen printing technology, ink, adhesive, varnish or another substance is transferred onto the target substrate through special screens (nylon or metal mesh), hence the name of this printing technique.
The printing element is a special woven mesh (usually made of nylon or metal) stretched over a metal frame which serves as a stencil. The diameters of the mesh openings range from 20 to 50 micrometres, and it is their size that determines the thickness of the applied ink, and detail and sharpness of printing.
At the preparation stage, the mesh is coated with a special photosensitive layer. After drying, it is exposed to UV light through a film/image stencil applied to it. The areas exposed to light are hardened, and these obscured by the stencil are washed with a jet of water. As a result, we obtain a mesh one part of which is closed, and the other one is open. It is through these openings that the ink will be pushed directly to the target substrate with the use of a special squeegee. The process is carried out on semi-automatic or automatic screen printing machines. Besides standard screen, sheet and roll printing machines, non-standard constructions are often made to special orders. Their construction, dimensions, number of printing sections, ink drying method, automation and accessories are frequently adapted to specific needs and substrates or printed elements.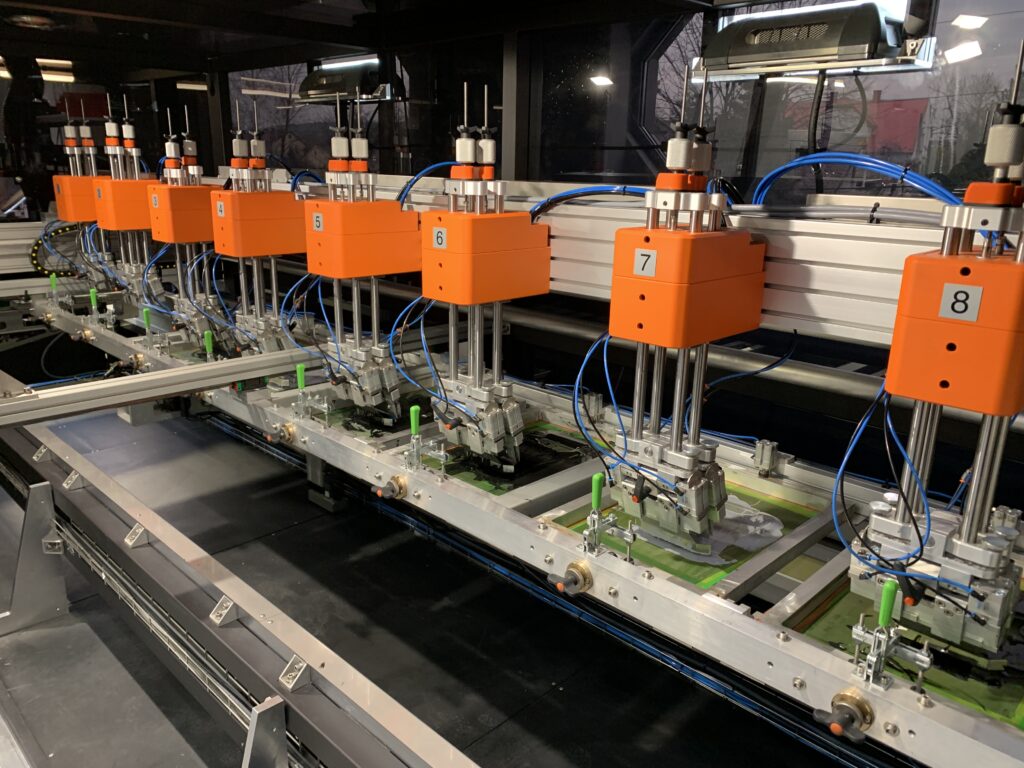 Pad printing: printing on bottles, caps, buttons…
The same is true for pad printing machines. Here, printing devices dedicated to specific production needs are made as well. They are widely used in the production of small components for the automotive, cosmetics, electrotechnical engineering, and household appliances industries. The technique consists in transferring the ink from a metal printing plate to the target substrate with the use of a soft silicone pad the hardness and shape of which are adapted to the printed substrate. This technique is used wherever screen printing cannot be used due to the shape of the printed surface or protruding elements. These are mostly small parts such as buttons, knobs, bottles, caps, plastic packaging, advertising gadgets, casings for electrotechnical devices, and sometimes larger elements of casings for household appliances. The pad printing technology makes it possible, as in screen printing, to use inks of special properties and colours. It is also possible to use most inks used in screen printing, although dedicated pad printing inks are usually used.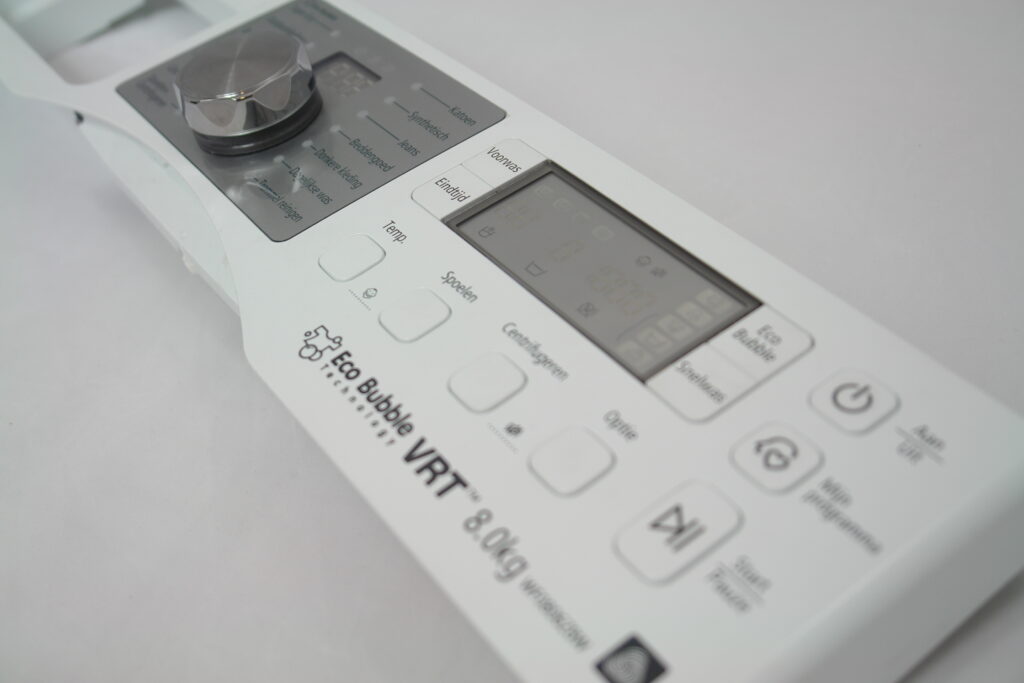 Faceplates, front panels, window panels – special machine park
To meet customer expectations and needs of the market, we have been developing both above-mentioned printing techniques for more than 12 years, although nowadays screen printing is most frequently used due to its versatility. Over the recent years, the machine park in our screen printing house has been successively expanded with cutting-edge single and multi-colour machines which can print both on objects and sheets up to the maximum B1 size. Some of the machines, or actually the whole production lines, have been built for specific product groups. For example, eight-colour machines for printing e.g., front panels and the so-called window panels, have been designed and built specifically for our company. The most modern solutions available in the world have been used there and adapted to our expectations. Currently, our machine park consists of six special, multicoloured screen printing lines and several standard sheetfed machines. Thanks to that we are able to successfully compete with Far Eastern and West European suppliers. Our equipment enables us to manufacture printed components effectively and efficiently for the most demanding European customers, and also to meet the expectations and quality rigours of manufacturers of electrotechnical devices and household appliances.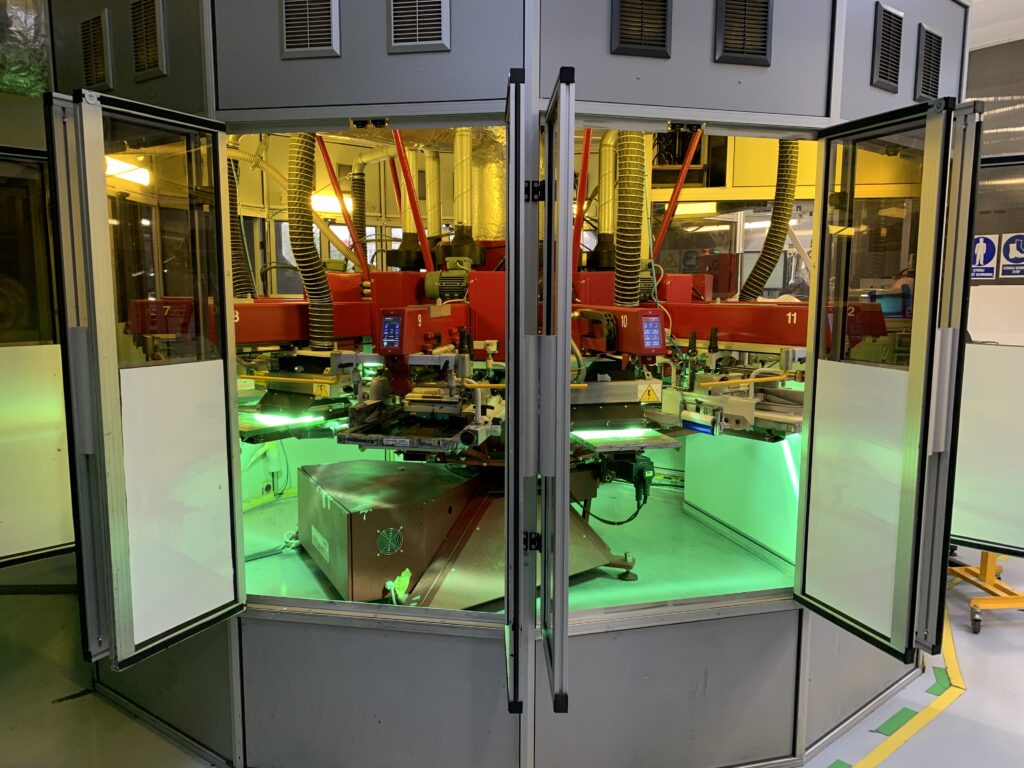 We are convinced that the chosen direction of development and recent as well as planned investments are right, and they already place us at the forefront of the largest and most modern screen printing houses not only in our country but in the whole Europe. It is confirmed by the fact that we have been trusted by our long-term customers, manufacturers of household appliances, electronics and automotive equipment who still entrust us with the implementation of newer and newer projects.