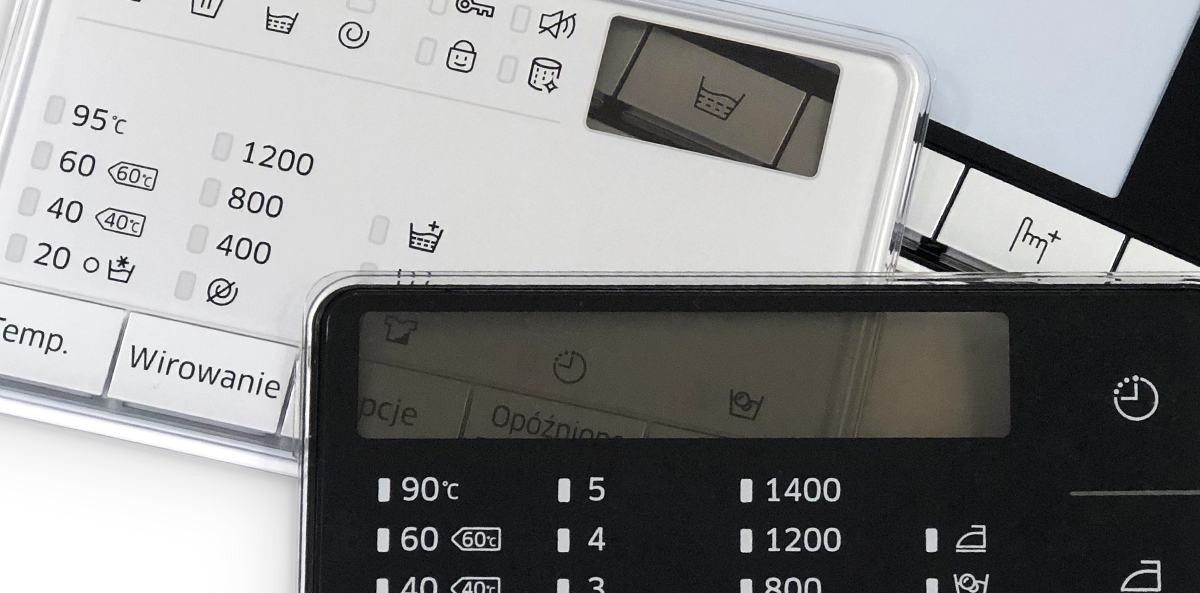 Front panels and control panels – part II. Types and production technology
17 May 2021 - Tomasz Gałecki
Front and decorative in-mold panels
This type of panel is very frequently used in the automotive industry for car interior decoration. Thereby, elements of dashboard and decorative panels imitating metal, wood and carbon are manufactured. This type of panel has recently also begun to be used in other branches of industry such as, among other things, household appliances, where it can successfully replace window panels.
Production technology:
The process starts with screen printing on large sheets of thin and transparent polycarbonate or another plastic. The print is mirror-imaged so that it can be only visible and legible when reversed, looking through the material. Here, special colours and inks with different degrees of translucency are used as well. The sheet is then precisely cut into smaller pieces that are fed into the thermoforming machine. There, after being heated and plasticised, it is pre-formed. During the next process, the formed sheet is placed and positioned in a special injection mould into which molten plastic is injected.
We receive a finished element covered with printed graphics and background after removing it from the mould and cooling it down. As in the case of window panels, the print is fully protected since it is embedded in the plastic.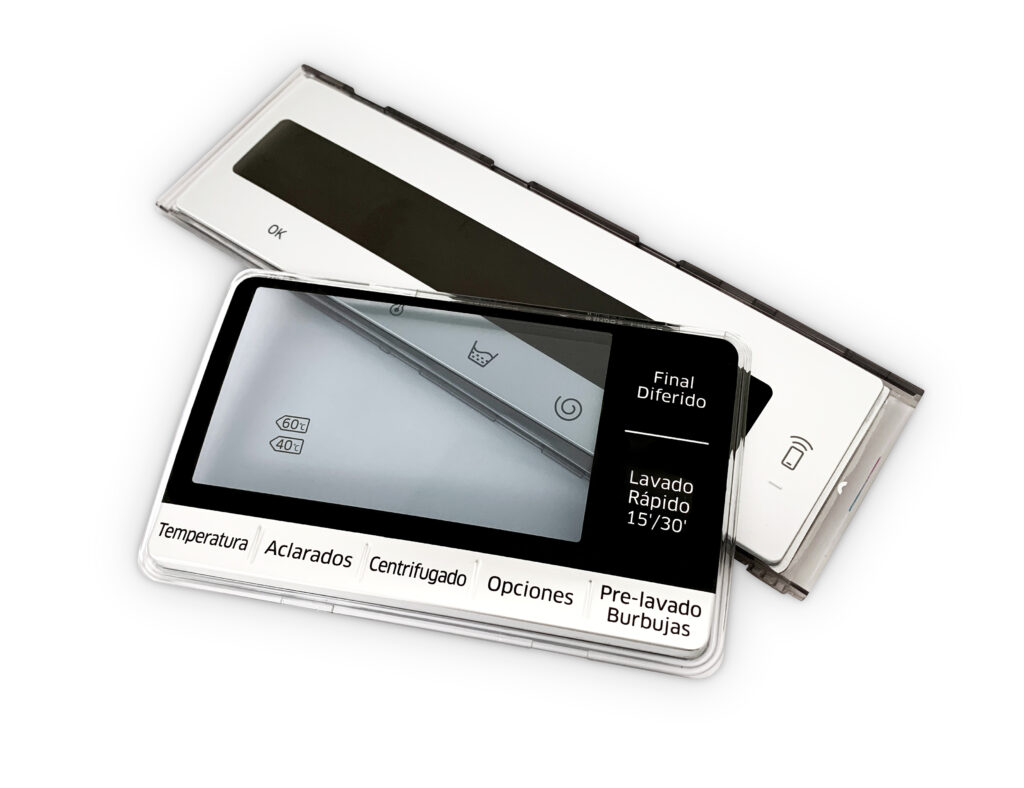 Foil panels, the so-called Inlay Panel, Decor Panel
This type of front panel is available in a flat form or with slight embossing. They have been used in small and large household appliances and electrical equipment for many years. Like window panels, they conceal and protect the displays, diodes, and other electronics behind them. Thanks to their elasticity, it is possible to exert pressure on the microswitches hidden under the panel which are responsible for controlling the device. A convex embossing is usually used in these areas to highlight and make the given area visible as a button. Embossed panels are most frequently used as the top part of the so-called membrane panels, which consist of several layers of film with applied conductive paths and electronic components.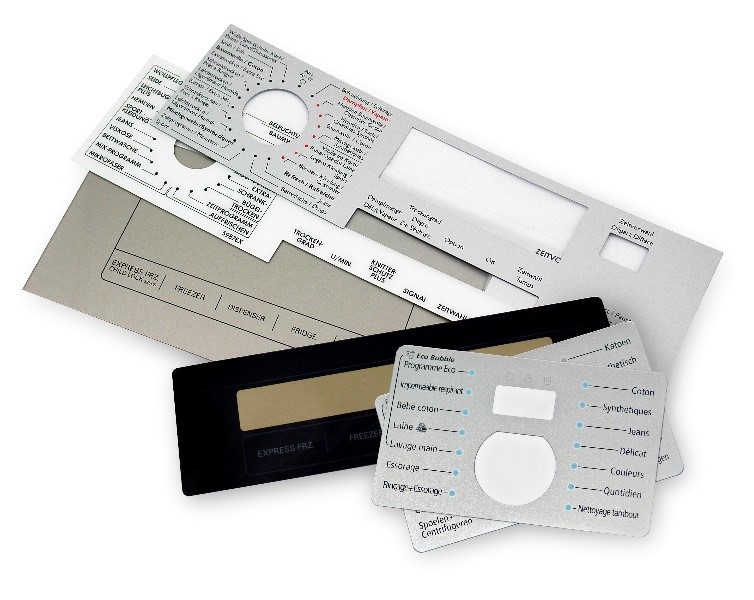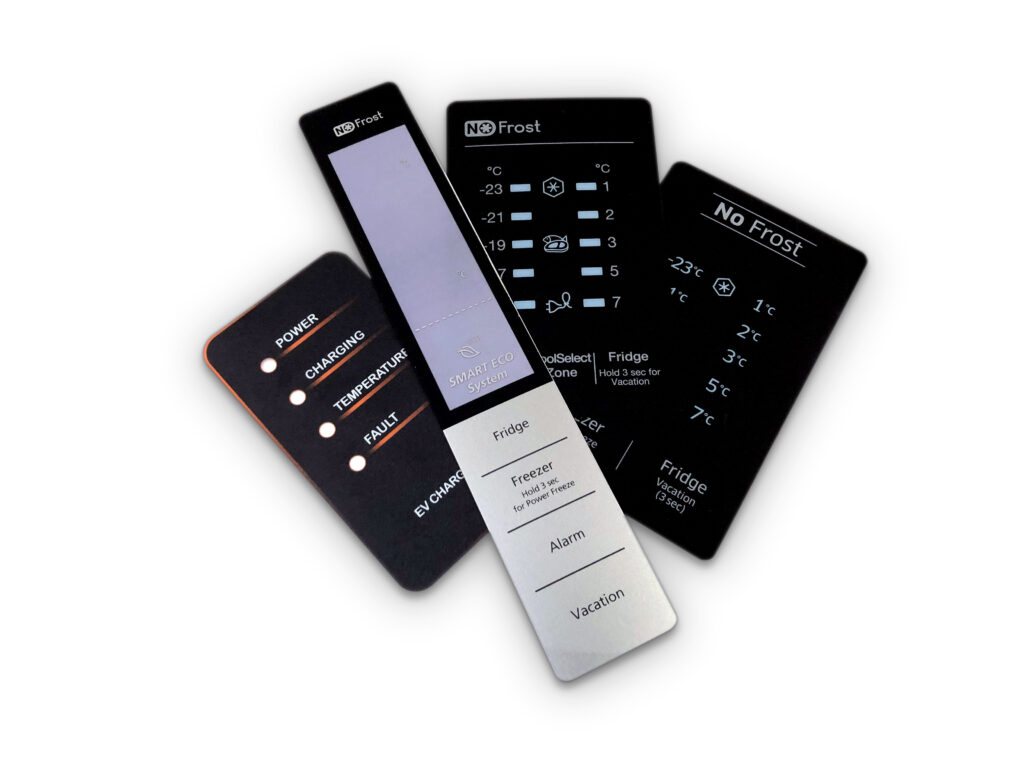 Production technology:
Making of foil panels begins with printing of transparent polycarbonate or polyester foil sheets between 0.15 and 0.75 mm thick. The print is usually carried out with the use of screen printing although in some cases other printing techniques, such as digital or UV-offset printing, can be used. Printing of the sheets is carried out in a mirror image, which is legible after turning the sheet over, thanks to which it will be protected by the material itself. The sheets are then selectively covered with special adhesive films. These films are pre-cut in the appropriate shape to leave the adhesive-free areas for microswitches, and luminescent or transparent elements. The sheets prepared in such way are cut out on special, precise CNC plotters or with the use of presses and punching dies. In the case of foil panels with embossing, the embossing process with the use of a press with a heated die and counter die is also used.
Combined technologies
Currently, a combination of front panels made with the use of various technologies is common. The front part of the housing is printed directly. It is usually a small print, e.g., with a brand symbol, name of the model, or a few small descriptions. The remaining and major part is the applied window panel or a foil panel.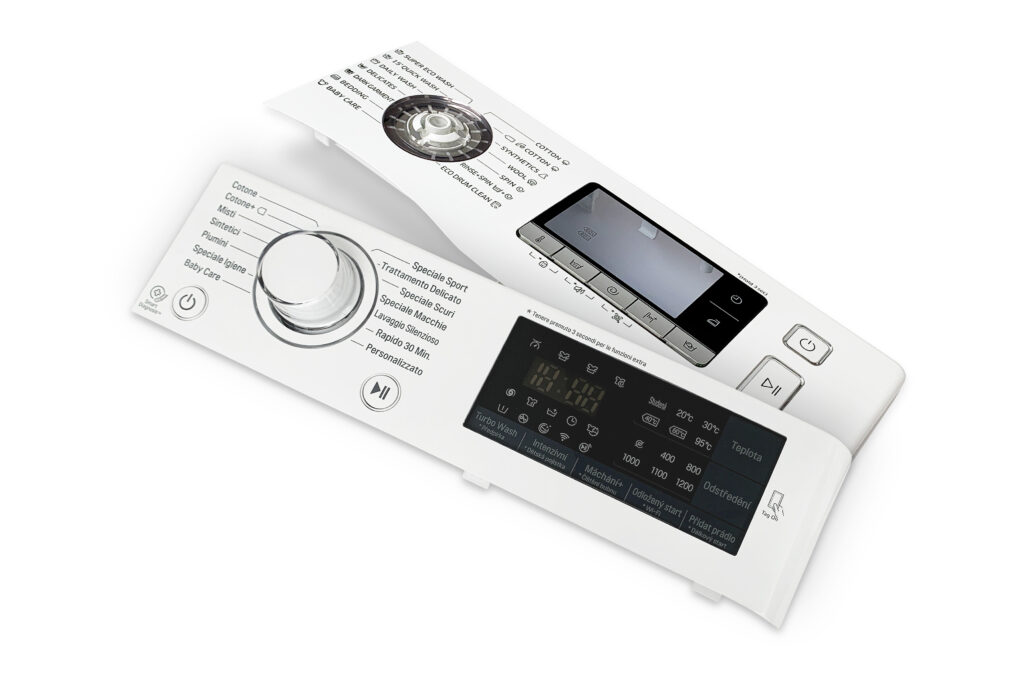 Many years of experience
Our company began to manufacture front panels (foil and direct-printed ones) on a mass scale in 2007. Initially, they were mostly front panels for washing machines and dryers for European producers of household appliances, and panels for the consumer electronics industry. In the following years, the production was extended by panels for almost all types of household appliances, consumer electronics and electrical equipment. We also began manufacturing panels for the automotive and medical industry. Nowadays, our company manufactures all the above-mentioned types of front panels for the world's largest household appliances/consumer electronics/automotive brands.
Today we can boast our portfolio which includes hundreds of designs and the fact that over 100 million front panels of various types have been produced in our company, which makes us one of the leaders in production of such elements in Europe. The experience we have been gaining for years and a continuously developed and modernized machine park enable us to undertake new projects and technological challenges, meeting the increasing quantitative and qualitative needs of our customers.
Here you can find I part of article.
Interested?