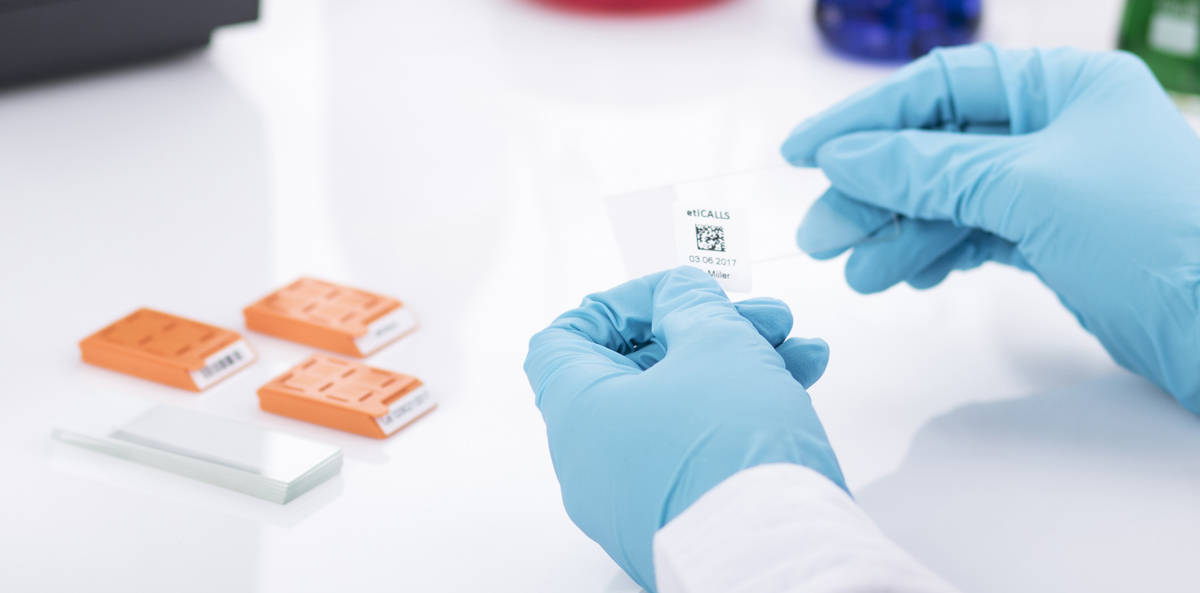 Labels resistant to solvents and chemicals
13 Jul 2021 - Agnieszka Biś
Every day, laboratory staff expose samples and test materials to a wide range of factors, including aggressive solvents and chemicals. There is no room for mistakes in laboratories. It is necessary to ensure the reliability of tests, and their part is permanent marking of samples, as well as laboratory containers. This applies both to the tests themselves and to long-term storage. It is advisable to use labels that are resistant to chemicals and solvents.
We offer them as part of our proprietary etiCALLS system for laboratories. One of its components, the SOLVENT&CHEMICAL RESISTANT solution, is primarily qualified to identify samples and materials during pathomorphological examinations.
This solution will also prove its worth in the field of:
histology
pathology
immunology
cytology
genetics
microbiology.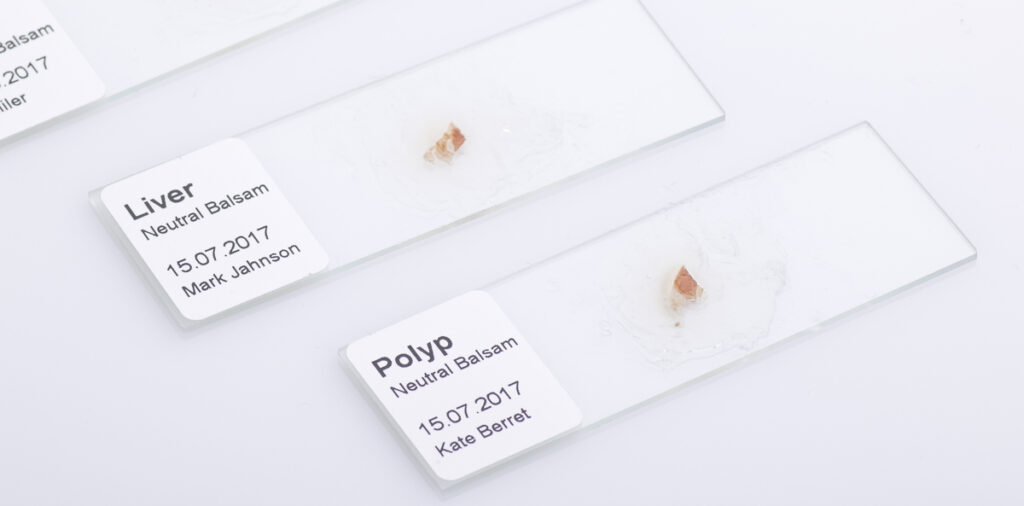 Laborers prepare samples with processed tissue for microscopic examination and subject it to aggressive action of solvents or chemicals. Labels with the imprint included in the etiCALLS set remain durable and readable (they do not require lamination), while maintaining the highest quality parameters.
This happens despite the:
immersion in solvents (xylene) and alcoholic mixtures – during the dehydrating process
infiltration
paraffin deposition.
Labels and printing are also resistant during the process of:
colouring and anti-colouring with eosin, hematoxylin and other dyes
contact with isopropanol, methanol, acetone, formalin.
Labels with resistant adhesive: no peel-off or wrinkles
In the SOLVENT&CHEMICAL RESISTANT labels we also took care of the right adhesive – resistant to solvents and chemicals. Even prolonged contact with xylene does not cause their wrinkling and falling off.
The etiCALLS system is more than just a label. It also includes a printer, software and a code reader. Each laboratory technician can print and read the patient's data, barcodes and 2D codes on his or her own. Also in this case, the printing of the label, despite many hours of immersion in solvents and alcohol mixtures, remains durable and legible.
Let us add that the etiCALLS system is used by both Polish and foreign laboratories, appreciating the ease of use, reliability and modernity of the solution.
If you think that etiCALLS, and SOLVENT&CHEMICAL RESISTANT will improve the identification of samples and improve the processes in your laboratory, please contact us.