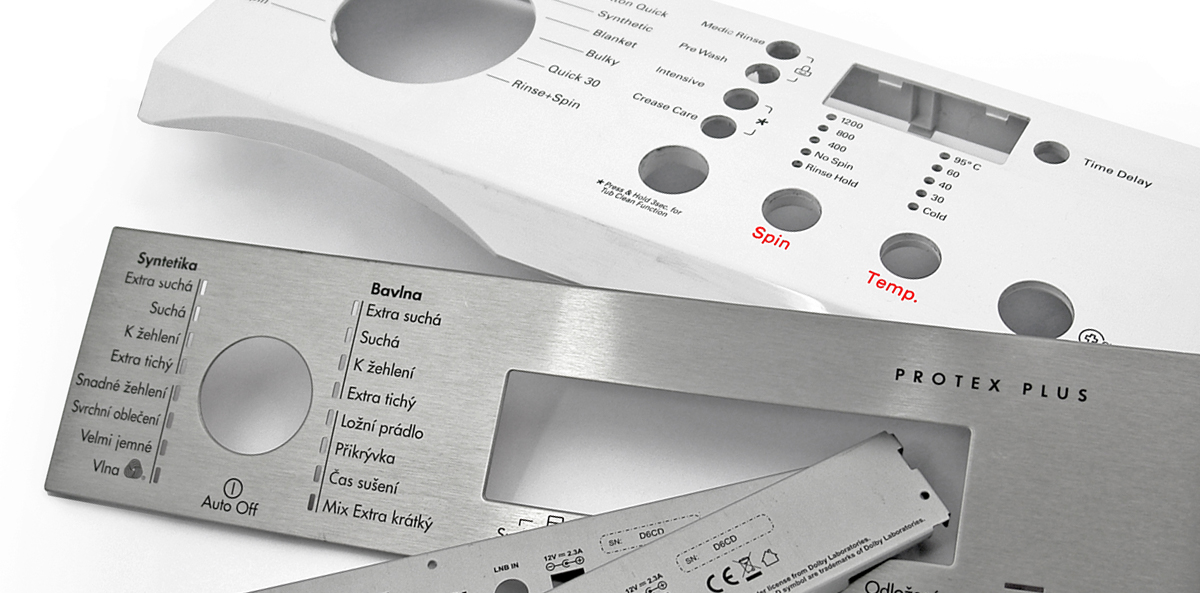 Front panels and control panels – part I. Types and production technology
29 Apr 2021 - Tomasz Gałecki
Front panels, frequently called faceplates or control panels, are important elements of almost every electronic and electrotechnical device. We can find them in all household appliances, consumer electronics, components for the automotive and aviation industry and wherever there are elements controlling the operation of machines and equipment. Most frequently, apart from performing decorative and information functions they have other significant functionalities. Above all, they protect the displays, LCD screen, electronics and luminescent diodes hidden behind them. Panels which make it possible to operate devices by touch are also being used more and more frequently. They are slowly replacing the older type panels with movable knobs and buttons.
A few main types of front panels can be distinguished:
Direct-printed front panels
Such panels usually have several openings for buttons, knobs, or displays. They can be found in many household appliances and consumer electronics as well as control panels of various devices and machines.
Production technology:
They are usually made from embossed and press-formed sheet of metal or as a whole plastic element produced with the use of injection moulding machines. The printing is carried out directly on the already formed fragment or the whole panel. Printing is carried out with special, exceptionally durable inks with the use of screen printing or pad printing equipment. The print is fixed with the use of UV radiation or high temperature. The selection of printing and drying technology depends mostly on the shape and type of the printing substrate.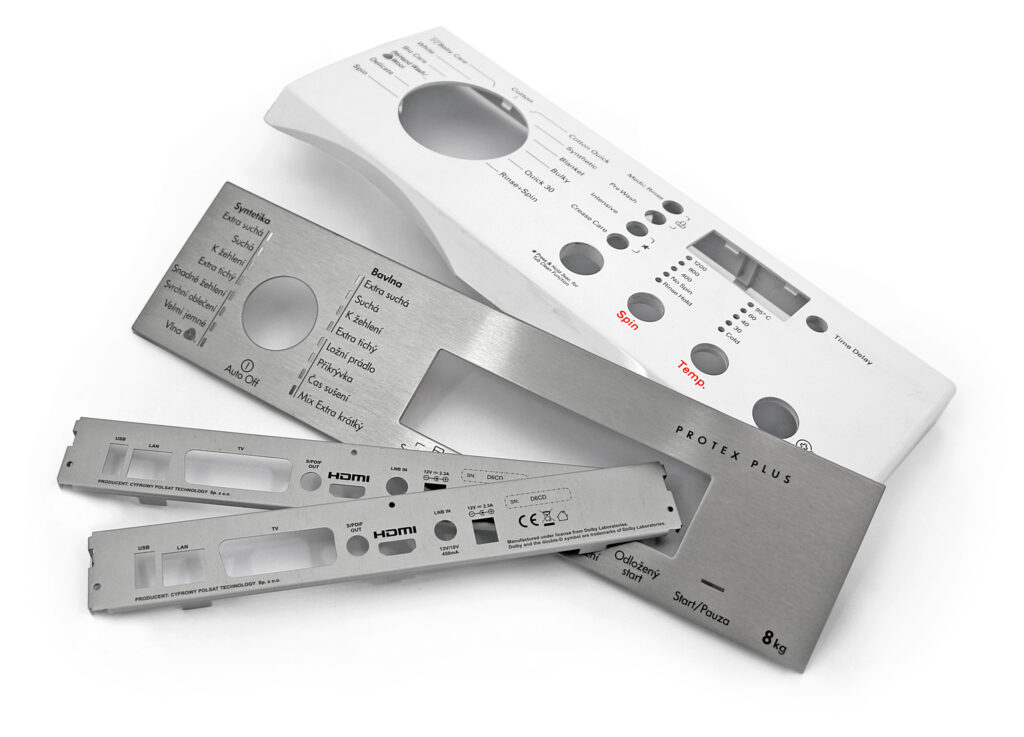 Window panels
This type of panel is characterized by modern look and functionality. It is used mainly in the household appliances industry due to its exceptional aesthetics and durability. They can also be found in many other electrotechnical devices and consumer electronics.
Production technology:
Making this type of panels begins with the moulding of the shape from a transparent material, which is usually PMMA. This is carried out with the use of devices called injection moulding machines, where a molten, liquid material is injected into a steel mould under great pressure. After being removed from the mould and cooled down, the panels are printed from the back (inside) side using screen printing thanks to which the printed graphic elements are protected under the layer of plastic and fully resistant to such external factors as abrasion, washing, chemicals or mechanical scratches. The multicolour print is carried out with special inks adjusted to the colour of the whole device. These are frequently metallic colours or colours specially made to order. Some fragments are left unprinted or covered with a transparent, slightly coloured varnish which darkens the material. In this way the so-called "window" is made in the panel, hence the English name "Window Panel." It is under the "windows" that displays, and LCD screens are hidden. The remaining elements are covered with inks with different degrees of opacity or light transparency (the so-called blockers and light diffusers) so that after appropriate illumination luminescent graphic elements and inscriptions, for example, can be obtained. Frequently, special conductive inks with the proper resistance are applied to specific areas. These areas are then used as touch buttons. The sensors hidden behind the panel detect changes in potential at these points when the panel is touched and, in this way, make the now popular touch control possible.