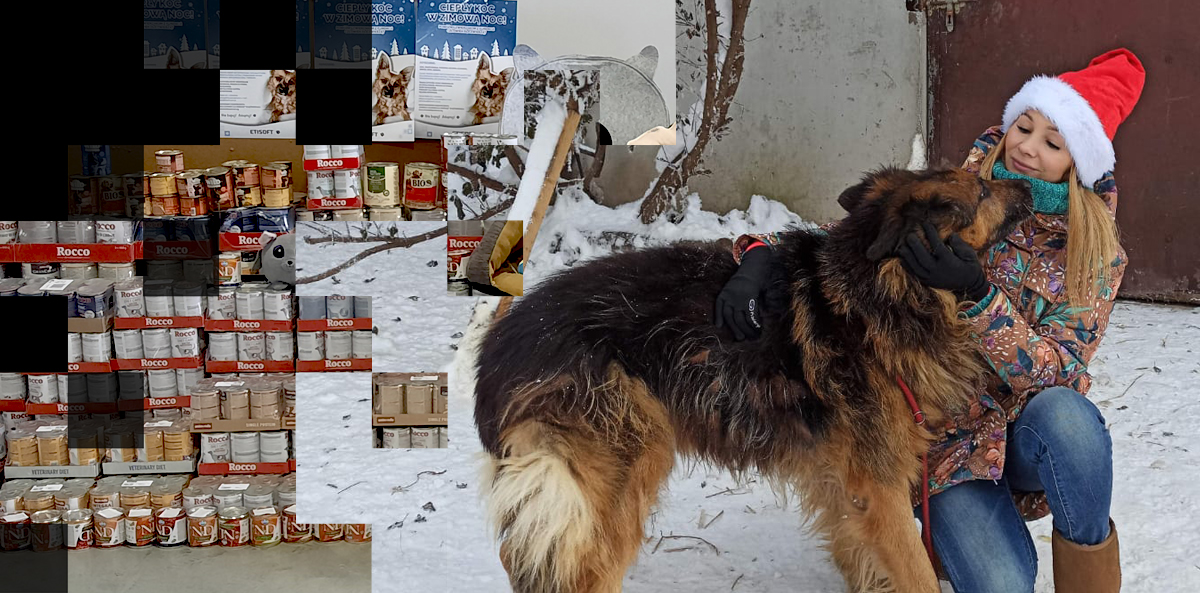 We have collected over half a ton of donations for the Foundation 'Man for Animals'! This is the seventh edition of our action
9 Jan 2023 - Joanna Heler-Kończakowska
On the day we visited the Foundation 'Man for Animals' (in Polish: Fundacja Człowiek dla Zwierząt) in Łętkowice Kolonia, Lesser Poland Voivodeship, it was minus 17 degrees outside, but we did not feel the cold! Another, the seventh collection of donations for homeless animals organized in our company showed how kind our hearts are! "A warm blanket on a winter night" this time met the needs of more than two hundred dogs, which are taken care of by Mrs. Wioletta Litwin-Mroczka, the founder of the Foundation,  together with volunteers. The utility buildings also provide shelter for 15 horses and a donkey.
On the back of the company car, we carried four pallets of dry and wet food (more than half a ton!), beds, blankets, washing powder, toys, and other animal accessories.  We once again did not disappoint homeless animals!  We were most glad to receive specialist food tailored to the needs of elderly and disease-stricken dogs. Apart from healthy animals, which are the fastest to be adopted, the shelter also accommodates puppies and canine seniors. There are plenty of dogs from intervention.
"That's suitable for television!" Mrs. Wioletta Litwin-Mroczka announced in the meanwhile, seeing the Etisoft car filled to the brim. "Thank you from the bottom of our hearts! Such help does not often happen, it is a great support for us in these tough times. Above all, thank you for specialist food. By mixing it with warm water we can conjure a warm and nutritious dog meal up. It is not easy for us nowadays – there are more and more animals in our Foundation, whereas adoptions are virtually at a standstill."
Why did we choose the Foundation 'Man for Animals' this time? Let us give the floor to Ada Dziadosz, our colleague from the Operations Division. She is the initiator and the driving force behind the action, who, together with her adopted female dog Mafi (yes, that is the little dog from our posters) can work wonders, recruiting our employees, friends, and befriended companies.
"I have been looking at the foundation for two years now.  I try to select such organizations that inspire trust through their actions and have a good reputation. The organizations that respect animal rights, and through their work and actions teach people empathy for them – Ada Dziadosz said. I also know how difficult it is for foundations to operate when they have no steady source of funding, for instance, from local governments. The foundation won me over by the fact that despite the extremely modest conditions in which it operates, everything it does, it does for the animals, providing a chance to all, as long as they have the will to live and do not suffer.  It also successfully searches for responsible adoption homes, promotes spaying and neutering, and, by operating mainly in rural areas, it has a chance to improve the lives of rural dogs. 
The "Warm blanket on a winter night" campaign would not have been possible if it were not for Etisoft Management Board, befriended companies, and employees – thank you from the bottom of our hearts. Helping and acting together have great power!
And we also thank the followers of the Foundation's fanpage for appreciating of our activities. Such feedback mobilizes us to do good:
Well done, Etisoft, respect, may there be more such companies
Wonderful action! A star from heaven from Etisoft! Thank you, Angels, for the good hearts…
Amazing! Thank you!
No kidding! Such a mite is the head of such a huge campaign (it is about  Mafi, an "ambassador" of our action — editor's note). Do not stop doing this good!
Great respect to the Donors
Thank you very much, we need more people like these
Hats off to people who help animals
Wonderful, empathetic people. May there be more such people! Thank you Etisoft for being eager to do that – this is very valuable in today's world