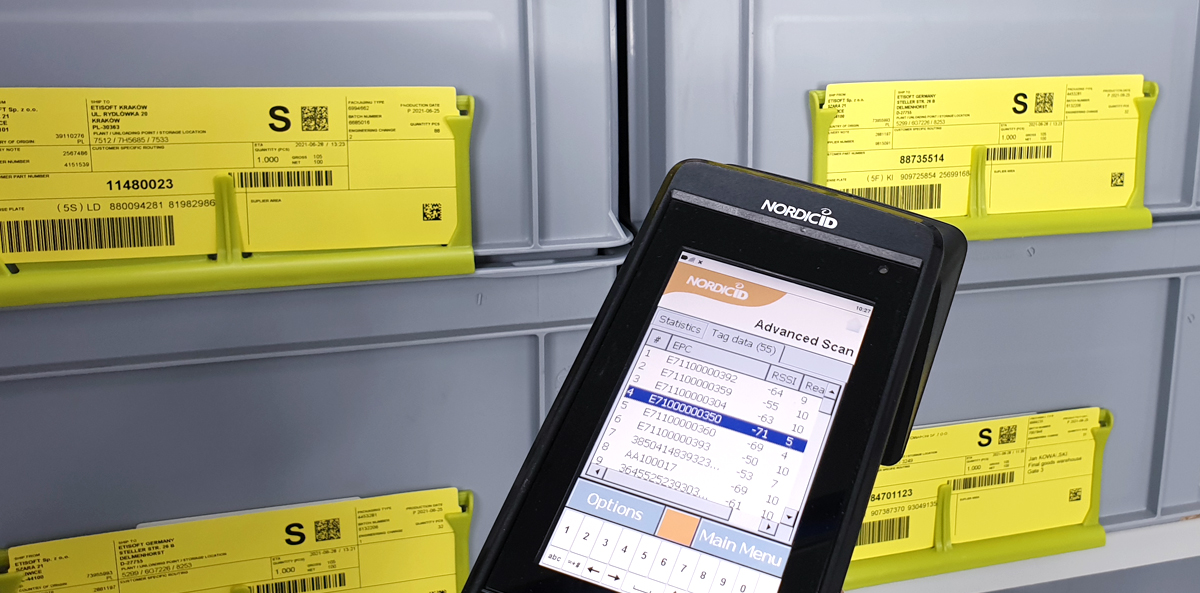 Yellow logistics RFID labels as container markings
24 Sep 2021 - Dariusz J. Kawecki
Properly operating logistics systems require from suppliers and customers efficient and clear exchange of information. Global and industry systems specifying how logistics units should be labelled have been developed to this end. The idea is to make the information understandable and unique to all participants in the process throughout the supply chain. How can the characteristic yellow logistics labels help with this?
Yellow labels for marking components and logistics units
In the automotive industry, such recommendations have been devised, among others, by the German Association of the Automotive Industry (VDA). They concern marking both particular car components and logistics units.
One of the examples are more and more frequently encountered characteristic yellow logistics labels. Containers marked in this way allow for automation of receipts and issues.
According to the specification contained in the VDA documents (e.g., VDA 4913, VDA 4994, or VDA 4902), labels have specific dimensions, layout of printed information and way of encoding.
For large containers or consignments, the 208 x 150 mm format labels are used. For smaller containers, the 208 x 80 mm format is used.
All data in one place thanks to RFID
Specifications also contain the information about permissible RFID inlays which can be applied to the above-mentioned labels. Appropriately selected chips with a large amount of memory and a specific shape of the antenna make it possible to, on the one hand, store all the required data, and, on the other hand, read labels by RFID gates in a trouble-free manner.
The labels are perforated for easier separation.
Since these are adhesive-free labels, depending on customer preferences, they can be attached to containers with, e.g., self-adhesive duct tape ringlets or inserted into dedicated plastic holders that can be easily mounted to the containers.
RFID labels with a printer and software
As always in the case of the implementation of RFID, we should remember that RFID labels are only one of the elements of the entire system. We cannot, of course, forget about choosing the right printer which will make it possible to print and encode them in an easy and trouble-free manner. It is also worth paying attention to the width of the print head, especially in the case of 208×150 labels, where the most common printers with a 4" print head width will simply be too narrow.
We should also check whether our software allows us to easily generate the right data in accordance with the customer's specification. We know from experience that specifications are frequently very complicated and, unlike e.g., bar codes or 2D codes obtaining the right data is not always as easy as it seems at the beginning.
If we want to use labels not only as an element required by our customer but also in our warehousing processes, it is, of course, essential to have appropriate reading equipment, i.e., RFID readers and antennas (RFID gates), mobile RFID terminals.
Etisoft's offer includes the above-mentioned solution. If you think that it can support traceability in your company, contact us.