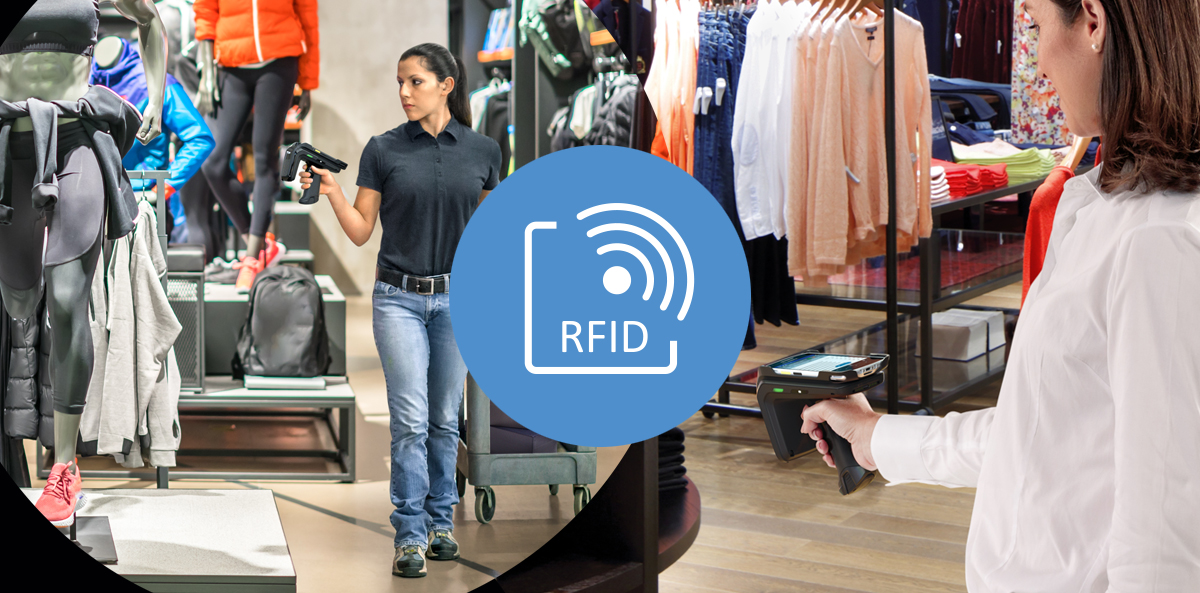 RFID marking in retail
17 Dec 2021 - Dariusz J. Kawecki
Automatic Radio Frequency Identification (RFID) is boldly making its way into our daily lives. Not so long ago, it was mainly seen in production or transport and logistics processes. Nowadays, it is more and more frequently encountered by the ordinary customer in a shop. But one step at a time.
Most entrepreneurs on the market realise what the advantages of the implementation of this technology are. Replacing standard labels with bar codes with RFID solutions allows not only for the multiple acceleration of the foregoing processes but also for the implementation of solutions that were impossible to implement in other ways.
Implementation od RFID marking
It seems to be ideal to implement the whole solution in all business areas, however, in practice, it most often begins with the implementation of projects that make it possible to solve the most urgent issues in the company. Only later do you begin to notice more possibilities of using the implemented technology. And although it is a quite frequent practice, it is worth having from the beginning a vision of the entire potential implementation or at least being aware of where RFID can be used and what potential benefits it can bring. It will make it possible to better prepare both infrastructure and possibly modify processes taking into consideration potential future company's objectives.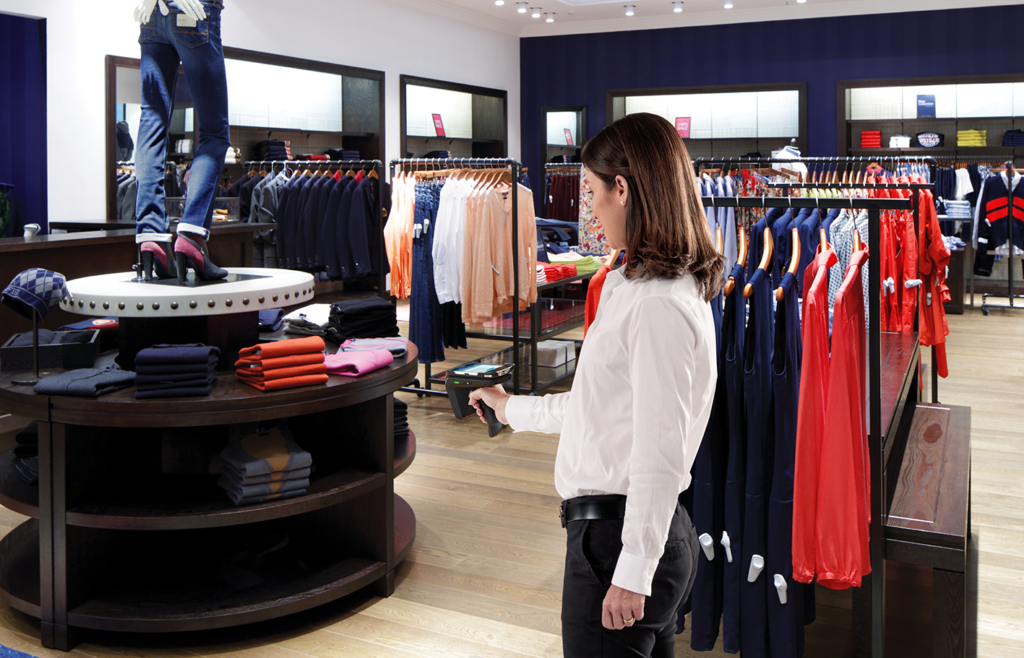 Tags and infrastructure
In each case we will certainly have to choose the way of labelling products and the way of their writing and reading. In the case of retail sales, an ideal situation would be if goods reaching us were already marked with RFID labels, according to our expectations (requirements). It is significant for these requirements to be precisely defined and described. In the case of large retail chains, convincing their own suppliers to mark goods with RFID labels seems easier than in the case of smaller entities. However, even here having RFID printers together with the suitable software allowing for printing one's own markings seems necessary.
Another essential element is the equipment for reading RFID tags, and here we mean both RFID gates, stationary readers, and mobile readers. Everything depends on the processes we want to automate. The software allowing for the realisation of all functions, taking into account, of course, integration with the systems used, is naturally essential here.
Where, in retail, can we currently find RFID solutions?
Verification of completeness in the receipt, issue or transfer processes is frequently one of the first options implemented when introducing RFID solutions in many companies. The ability to quickly read dozens or even hundreds of tags from products on a pallet passing through the RFID gate will make it possible to verify its completeness and automatically receive/issue the goods into the warehouse. Thanks to that we can avoid the need to unpack the pallet upon receipt. We will also be certain that the warehouse has received exactly the products we ordered.
Inventory
We all know perfectly well how unpopular this activity is, which usually involves not only human resources but also a good deal of time. What is more, if it is undertaken once or even twice a year, it usually makes it possible to identify shortages and… write them off. We usually do not know and cannot explain the reasons for shortages and discrepancies between the facts and what results from the accounting records. It is difficult, sometimes a few months after the event, to find its cause.
The situation is different when we are able to conduct such an inventory using RFID technology in a few or several dozen minutes. Then, not only are we able to explain the reasons for possible shortages but also, what is particularly important for prospective customers, to complete them quickly. There is nothing more annoying for customers than the situation when, after checking in an online shop or receiving such information from a salesperson in another branch of a shop, the customer goes to a shop where a given product in the colour or size they have chosen should be, and there it is, but only on the computer☹
A quick, sometimes automatic, inventory makes it possible not only to detect actual shortages, but also to find goods located in places other than expected.
Goods searching is another functionality that is more and more frequently used by employees of companies using RFID technology. Wrongly arranged, or most frequently moved goods are a daily situation in the majority of shops. The system wilfully indicates that a given item is in our shop, but neither the customer nor the seller can find it. This is where RFID comes to rescue by making it possible to find the lost item relatively easily. This may occur during the above-mentioned inventory, but we can also launch such a search using mobile devices.
Goods searching can be useful not only in the case of 'lost' items but also when we want to, for example, find the items approaching the end of their shelf life.
Handling sales
Self-service checkouts have become a permanent element of our shops. In most cases, however, they are based on scanning bar codes located on the products. Not only does it last long, but also in the case of poorer quality of codes causes problems with entering goods in the shopping list. Fortunately, even here the said technology makes it possible to significantly accelerate and automate purchase finalisation. Visitors of the outlets of one of the largest sports retail chains have probably already got used to the new way of doing the shopping. It is enough to place the purchased products in a dedicated place, without the need for searching for labels and codes placed on them, and the system will read all the goods itself and make it possible to make a payment.
Price checking
The commonly used price checkers are an excellent solution. However, we have all probably experienced turning some products over a few times in order to find the label with the code, and then moving the product closer and further away from the reader to find this perfect distance. In the case of an RFID tag, it is enough to bring the product close to the price checker, and the information about the product will immediately appear on the display.
Anti-theft function
These labels can also perform the role of anti-theft devices that allow people to leave the shop only after the payment has been made. Thanks to that we avoid the need to use separate information labels and anti-theft labels, which saves time and money.
Dual-band labels
Labels operating in two frequencies simultaneously are also tentatively entering the retail market. Mainly in the UHF technology that is commonly used in these applications, but also in the NFC technology. While the former requires dedicated reading and writing equipment, the latter is available for reading by the customer using a smartphone equipped with an NFC reader that is becoming more and more standard equipment.
This allows the customer to avail themselves of additional opportunities offered by some manufacturers such as verification of product authenticity, participation in loyalty programmes, quick access to product specifications or documentation etc. Here, the imagination of the manufacturer is the only limitation ?
Intelligent changing rooms
Information about the availability of other sizes or colours of clothes being tried on, or perhaps suggestions regarding accessories or complementary products? Requesting staff to bring a different size without the need to leave the changing room is another of the options that can be implemented using RFID technology.
Summary
Fast purchase finalisation, easy location of 'lost' products, quickly restocked shelves, and thus product availability are just some of the benefits for the shopper discussed before.
There is no need to convince anyone that a satisfied customer means also profits for the entrepreneur. A customer who is served quickly and in an exemplary way will not only make a purchase but will also come back for further purchases and will recommend shopping at the chosen outlet.
It may seem that the introduction of automation could result in a reduction in employment, but in practice it usually means an increase in the comfort of employees' work and shifting them to more ambitious tasks or equipping them with better working tools.
It seems that the above-mentioned applications are just the basic functionalities, whose advantages can be already used in more and more shops. RFID technology has a potential that is limited only by the imagination of its users and probably soon we will witness further improvements and conveniences for both companies and their customers.
Pictures: www.zebra.com
Interested? Contact us!