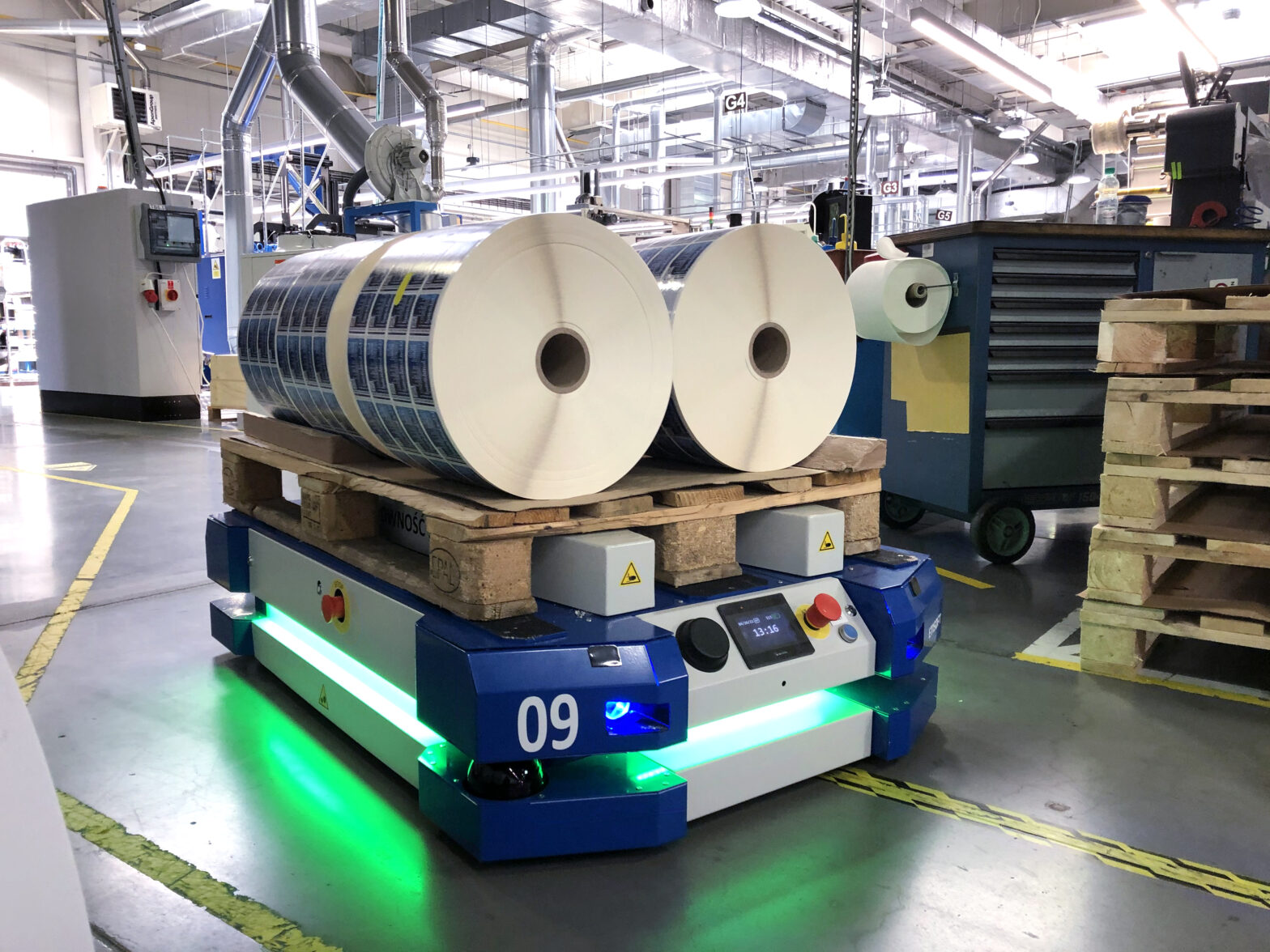 Automated pallet transport – AGV/AMR-based system
19 May 2022 - Jarosław Hławiczka
Material handling, its continuity, is the most essential element of the production and storage process. Automated pallet transport is intended for production and storage environments where the pallet is a standard logistics carrier.
The current business practice points at the need for optimization using automation and robotization in production and logistics processes, i.e., among other things, material handling autonomous devices. They can streamline these processes to a great extent, which should be regarded as ground-breaking keeping in mind the current state of technical preparation of companies in Poland. This aspect is currently becoming a key competitiveness factor, which is why there is now a development trend relating to this issue and a focus on intelligent solutions in the supply and receiving chain. In most cases, procedures regarding processes in the production area or inside the warehouse will change dramatically and in many cases the human will be replaced by the machine. Among other things, this is intended to eliminate high labor costs, employee turnover, and reduction of errors and accidents.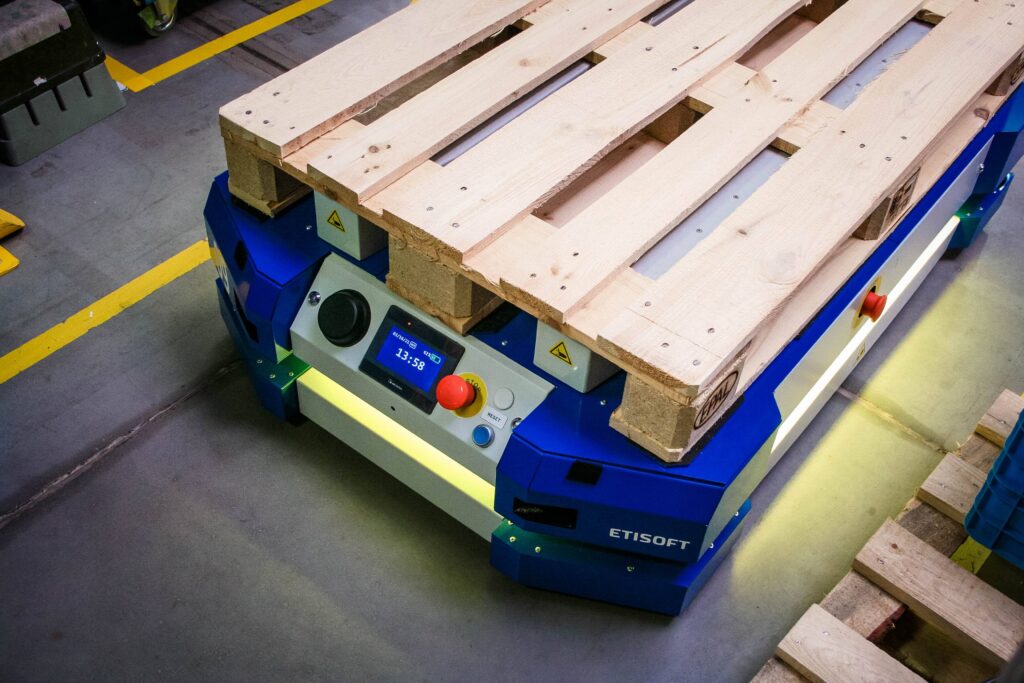 When analyzing the material handling process it is important to remember that the use of autonomous solutions makes it possible to reduce process time, increase productivity and generate savings. The configuration of autonomous robots facilitates automation of deliveries. This has a direct impact on the efficiency of the entire production and storage process. One element of the system is the introduction of communication integration, which increases the efficiency of information flow and minimizes errors in load picking, empty truck runs and superfluous truck movement.
Automated pallet transport – Etisoft as a designer, manufacturer and integrator of intralogistics systems,
The implementation of autonomous transport means a number of operational benefits and savings in logistics processes. It is worth realizing that its efficient and conscious implementation will be rewarded in a relatively short period of time. It may also have positive influence on the implementation of other processes in the whole supply chain.
One of such dedicated solutions is the awarded and honored original Automated Pallet Transport System by ETISOFT and Etisoft Smart Solutions based on their own IntraBot Lift 550 mobile robots.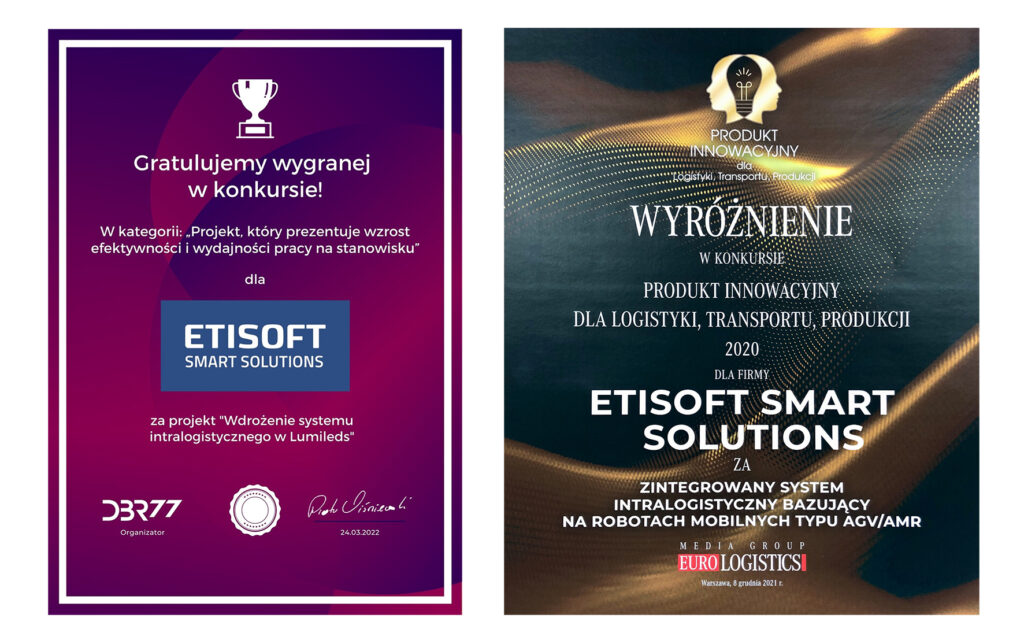 Being competent both as a designer, manufacturer and integrator of intralogistics systems, we provide complete solutions for internal logistics.
Our original solutions have been tested and guarantee work safety for workers in the same production or storage area. The system is configured according to customer needs so that it reflects the logistics flows and provide comprehensive transport operation. This concerns both single and multiple logistics points. It has been equipped with advanced traffic supervision functions allowing mobile robots to cooperate in intralogistics tasks.
Above all, we have placed a lot of emphasis on initial stages of implementation, i.e., the design stage of an intralogistics system. Among other things, it consists of processsimulation in FlexSim software, design of essentialinfrastructure, as well as preliminary security audit of system operation.
The maximum use of the existing infrastructure of the production plant or warehouse without the need for making significant changes is also assumed.
Automated pallet transport – the key features of the system
Automation of the pallet transport process in the plant
Autonomous transport of loads up to 550 kg
Fully compatible with available pallet infrastructure
Deep integration with IT systems, e.g., mission generation based on production needs
Advanced robot motion controller algorithms for intralogistics tasks
Maintenance-free operation, e.g., automatic battery charging
Active and passive safety system, e.g., detection of loaded pallets
Customizable to customer requirements, e.g., mechanical interfaces, width of robot paths
Excellent robot maneuverability, e.g., rotary, and bidirectional motion
Supplier's full control of all solutions included in the system
Examples od application
In production halls:
supplying components for production
receiving finished products/semi-finished products from production and their transportation to a storage or shipping area
delivery and reception of tools and raw materials to machines
collection of waste and its export to the right zone.
In the logistics and warehousing area:
transport of products and goods to and from the warehouse
transport between picking zones and buffer warehouses (supermarkets)
ordering of transport equipment in warehouses and supermarkets
other transport activities inside production halls and warehouses.
Etisoft provides:
pre-implementation analysis
design of the entire system
simulation and virtual implementation
implementation of the intralogistics system
maintenance service.
assistance in financing the investment
and guarantees:
safety of customer's processes (pre-implementation analysis, simulations in the FlexSim environment)
safety of robots and people (security systems, standards and certificates, renowned suppliers)
implementation security (a team of experienced engineers, testing, implementation, monitoring, external security audits, technical support, and replacement equipment)
financial security (stable company with an established position on the market, recognizable and dependable Etisoft brand, more than 25 years of experience, implementations in operation)
In late 2019 and early 2020 Etisoft conducted a project for a production company, an automotive giant with a global reach.
Below is a recommendation from our customer:
Dariusz Pięta, Vice-President of the Management Board at Lumileds Poland SA
We confirm the implementation of the integrated intralogistics system based on a fleet of six cooperating AMRs/AGVs in the Lumileds Poland SA production plant in Pabianice by Etisoft Sp. z o.o.
The provided system meets our functional and performance requirements. Monthly, the system autonomously transports several thousand pallets in a three-shift mode. The functioning of the system helps to develop the optimization of production processes and its further integration with the IT systems operating in our company. This made it possible to reduce labor consumption and employment costs in the field of internal logistics.
Interested how to improve a logistis?