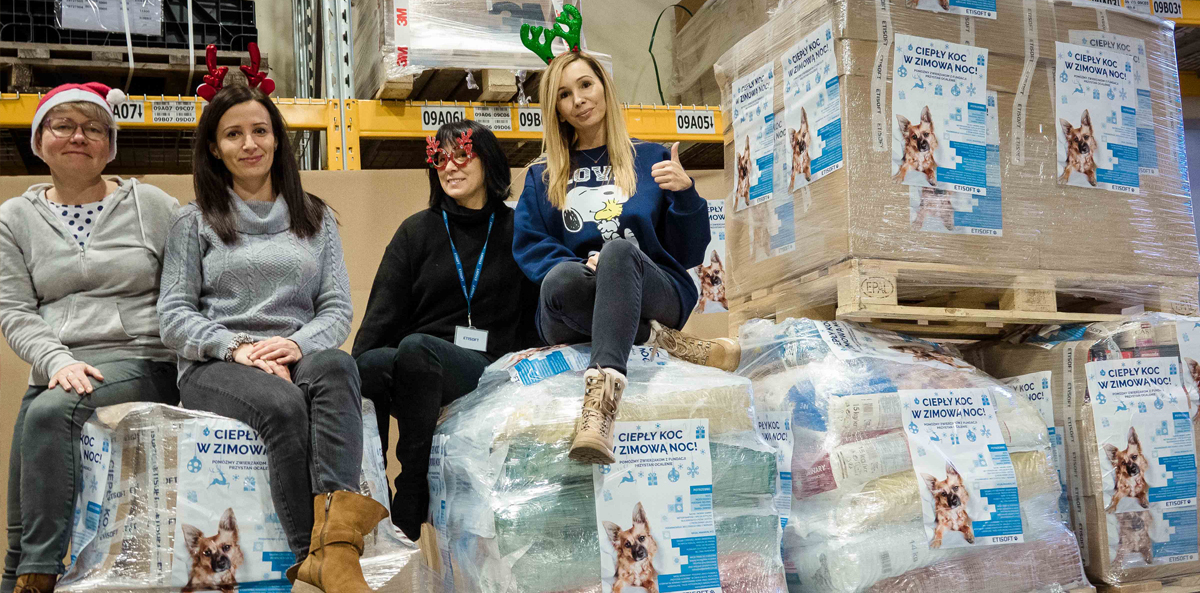 "A warm blanket on a winter night." Our action to help animals with another record!
20 Jan 2022 - Joanna Heler-Kończakowska
If animals could talk… We will never find out what they would tell us. Therefore, on their behalf we would like to thank all those thanks to whom the sixth edition of the Etisoft's action "A warm blanket on a winter night" gained such a momentum! This time we fed and warmed over 500 animals of Przystań Ocalenie Foundation in Ćwiklice. We are happy to announce that we broke the collection record! We want to thank everyone who is not indifferent to the fate of homeless animals!
As every year, the initiator and "driving force" of the collection was Ada Dziadosz from the Operations Division. A big heart, empathy and lover for animals, and the power to move heaven and earth if you can only help them. That is what it was like this time, too. As every year, the posters announcing the action featured Mafi, Ada's good friend from the shelter in Gliwice. This time our four-legged model also personally appeared at our warehouse in Szara Street to see the final result.
"Every action is accompanied by questions: will it succeed, will everything arrive on time… And then there is euphoria and great joy, because once again we achieved success, and the group of donors is getting bigger and bigger every year!" Ada does not hide her emotions. "I would like to thank each of you individually. I am incredibly happy that, as every year, we could rely on the support of our employees. You have seen for yourselves how quickly the number of donations was increasing! I would like to express my special thanks to the Board of Directors of Etisoft, because thanks to the help provided, we can provide specialised food to the sickest animals, whose needs are much bigger than those of healthy animals. We were able to recruit friends to the action once again. I hope that next year we will extend the action by inviting partner companies to participate in it. This year one of them provided several dozens of insulation mats. In the foundation, they will be used for insulation of the rooms, The other one supported the animals with specialised food. Thank you, with all my heart, for all this on behalf of the animals!
The success of the action is all the more joyful because this year we directed our support to a specific organisation, which has under its care not only dogs and cats, but also almost 150 horses and farm animals such as goats, sheep, cows, pigs, poultry… All of them have been through a lot: rescued from accidents, bought out from slaughterhouses, collected on an emergency basis from farmers, dropped off at the Foundation… On the one hand, my heart breaks at the sight of them, on the other, it makes me happy that they ended up here and we could provide them with help.
The foundation in Ćwiklice, which we visited in December, is a large agricultural farm. With typical farm buildings, large paddocks, stables, barns, and farm machinery. Hay bales are stacked all around. The foundation operates thanks to donations from the 1% or campaigns such as the one organised by Etisoft.
As greeting, a brindle cat cuddles to our feet. Especially with Etisoft Santa Claus in mind, they waited to let the horses out into the meadow. Some of them are galloping with joy, others, burdened with illnesses and age, are stately and slowly heading for the paddock. We are welcomed by Dominik Nawa, who has been the host of this place for 20 years. He shows us around the farm and shares stories about the animals he visits. Each of them has a name and a difficult story. As he explains, he always wanted it to be a home for animals, not a shelter with bars. He repeats several times: "You have brought us so much good… I would never have expected that it would be possible to organise an action on such a scale," Dominik Nawa said. "Thanks to you we are certain that we will be able to feed the animals for a long time. Towels and blankets will come in handy at the "Psianatorium," where we keep non-adoptable animals, mainly lying down. Chemical and cleaning products will help us keep the most sensitive rooms clean." 
We were coming back from Ćwiklice happy and encouraged that, as every year, we were able to recruit so many people of good will. Thank you very much on behalf of our brothers minor!
The collection in numbers:
Dry and wet food:  around 614 kg
Rice, groats, pasta: 28 kg
Vegetables and fruits: 300 kg
Hay: 25 cubes
A box of hygiene products 
Plenty of blankets, towels, leads, bowls, toys.