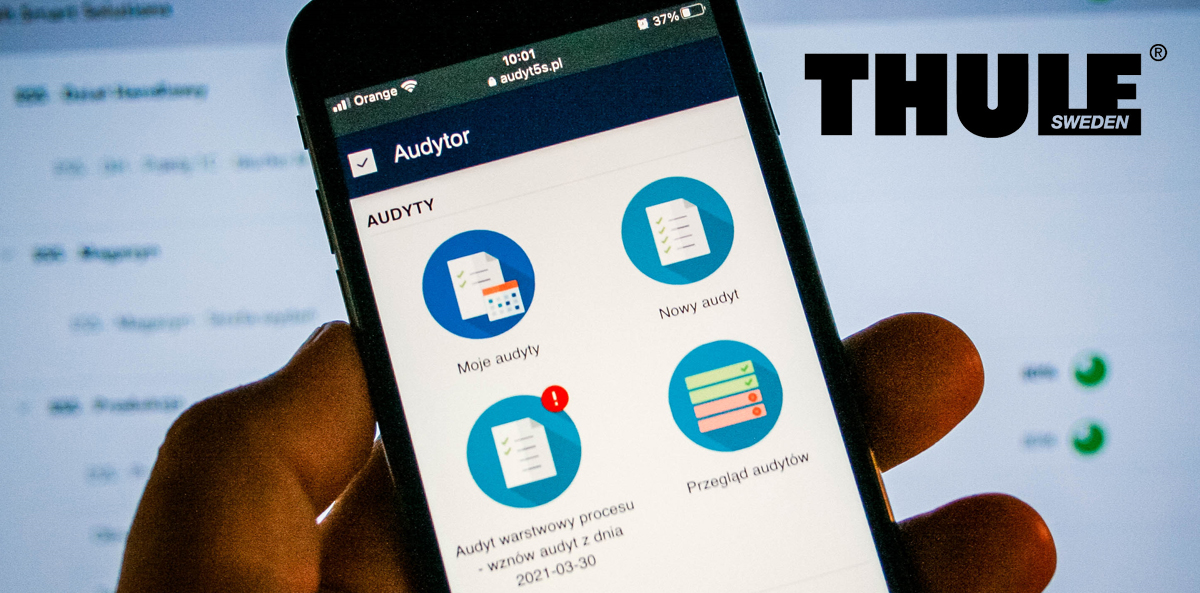 APS Audit Process Support. Implementation at Thule
12 Oct 2021 - Bartłomiej Bury
APS (Audit Process Support) is an innovative system for automating and digitising the audit process. The tool is adapted to different types of audits, including 5S. The system is designed to speed up the audit process, reduce time of response to nonconformities and digitise the business.
The implementation of the APS system at one of our customers directly translated to order in documentation and time savings for competent employees. Mateusz Berg, Production Specialist Region Europe & ROW at Thule Sp. z o.o., says,
"I observe that thanks to that some areas look clearer and tidier. We can react to nonconformities immediately, earlier. Without the help of the tool, it took us sometimes as long as two weeks to get a nonconformity on the list to improve."
Lean Management, i.e., the pursuit of simplicity and functionality
The challenge that arises while creating complicated reports using various methods and by a complex team is not always consistent with the idea of effective pursuit of objectives and efficient problem solving. This is changing when you use the APS system, as Mateusz Berg says,
"On the platform, we currently conduct regular 5S audits for our manufacturing cells. Previously, due to long time needed to develop audits (about 2-3 days), we used to conduct fewer audits, now we can conduct more and more of them systematically."

According to the Lean Manufacturing philosophy
Our company not only offers the product, but also operates according to the Lean Manufacturing philosophy on a daily basis, while being focused on continuous improvement of the application functionality. Thanks to the suggestions of our customers, the system gains new solutions improving the experience of APS users. We try to meet our customers' expectations, which is confirmed by Mateusz Berg's statement that cooperation with us is particularly good, and the product development opportunities are open towards emerging needs,
"In the future I would also like to implement checklists for team leaders at the beginning and end of a shift. It is also very good to work with the platform's technical support."
The latest version of the APS system already offers plenty of additional benefits, i.e.,
Digitisation of audit activities.
Reduced paper consumption.
Convenience and intuitive schedule management interface and quick access for all users.
Convenience of creating audits on mobile devices and quick access to the register of detected nonconformities.
Full control and review of the action plan with the possibility of delegating individuals or a team to take corrective actions.
Analysis of collected statistics/results.
We are proud of such a positive testimonial from our customer Mateusz Berg Production Specialist Region Europe & ROW from Thule Sp. z o.o. We would like to thank him for letting us publish it.
The APS system is co-developed with 2KMM which is a partner of ESS in this project, and it is available in two implementation models. They are based on the license version and the cloud service for access to the application with the maintenance of a high level of data security.
Here you can read more about APS system.
Interested?