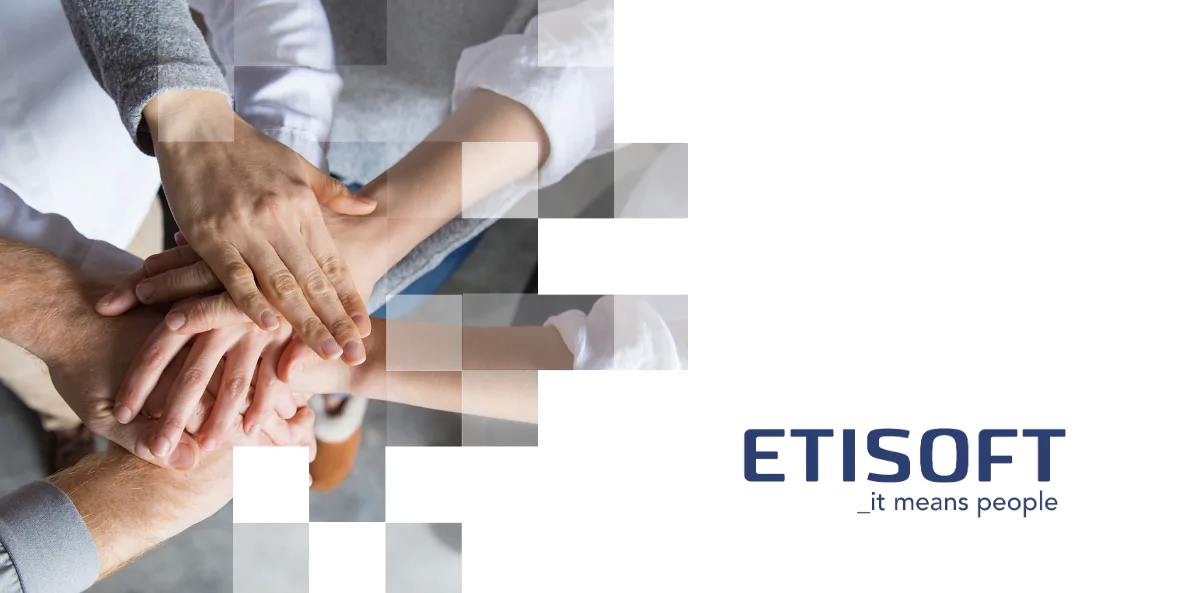 Ten years have passed like one day… #EtisoftItMeansPeople
7 Feb 2022 - Joanna Heler-Kończakowska
The yearly tradition has been fulfilled – in a special way we would like to thank our employees with ten years of work experience for what they do for the development of Etisoft. The anniversary is a time for reminiscences, reflections, and summaries. We give the floor to our "10-year-olds." What does Etisoft mean to our jubilarians?
Tomasz, Internal Logistics Shift Coordinator
For me Etisoft means more than just a place of my work. It is also a place where I meet nice people every day, have interesting conversations and develop my interests. After these 10 years, I know that it is possible to work in a company that provides stabilisation and satisfaction. Etisoft is also a special for me, since I met my wonderful wife here.
Michał, Product Manager (Product Development Department)
For me Etisoft means the possibility of continuous development. Facing new challenges and interesting, ambitious projects which require commitment.
It is a sense of trust and community with real professionals who are my co-workers, but also a sense of security provided by a solid brand on the market.
However, above all, it is an invaluable opportunity to meet interesting new people and establish long-standing friendships.
Anna, Production Shift Foreman (Production Department – co-packing)
For me Etisoft means… a job of constant challenges. I am definitely glad that I have had the opportunity to join the company and participated in its continuous development. 10 years of my work let me realise how much support I receive from my immediate supervisors in my development within the company. Working with the girls in my area gives me a lot of satisfaction, especially when I can help them solve their problems and answer their questions on a daily basis.
Bogumiła, Production Shift Foreman (Production Department – co-packing)
For me Etisoft means… stability, work with nice people in a pleasant atmosphere, which is particularly important! It is also an opportunity to develop with the support and motivation of my supervisors.
Joanna, Public Relations Specialist
For me Etisoft means… people. Even if I wake up on the wrong side of the bed, I know that when I open the door to the room, I will be greeted by the smell of delicious coffee, cool people who can dispel all the dark clouds and always lend a helping hand when something goes wrong. Apart from that, every day teaches me something new ? And the past year especially made me think that it is good to work in a stable and forward-looking company.
Piotr, Digital Machine Operator
For me Etisoft means, first of all, WORK thanks to which I was able to gain experience and develop skills in operating machines and more.
Secondly, PEOPLE who I have met over these 10 years working in the production hall and having fun during corporate team building trips.
Thirdly, there are the positive memories when I felt happy and proud, as well as those accompanied by regret and bitterness. Thank you for all this.
Kamila, HR and Payroll Specialist
I joined Etisoft in February 2011. I started working in the Administration Department at the reception desk. After a few months, together with the whole Production, I moved to a new location in ul. Sowińskiego. There, to a large extent, I dealt with HR problems of employees. I have been providing my assistance also in the area of payroll as a payroll specialist for six years now. I look after the Production Department as well as ESS.
Etisoft is an important part of my life, interesting people – colleagues, friends.
Michał, Coating Machine Operator at ITS
Etisoft is my first employer. I worked there as a die-cutting machine operator and then as a flexo press operator until 2016. Since 2016, I have worked at ITS, at Etisoft's daughter company, as a coating machine operator. I would like to thank all my colleagues for these years in the company.
And we thank you for what you do for the development of our company. We are glad that on this occasion you feel that this is also your development.