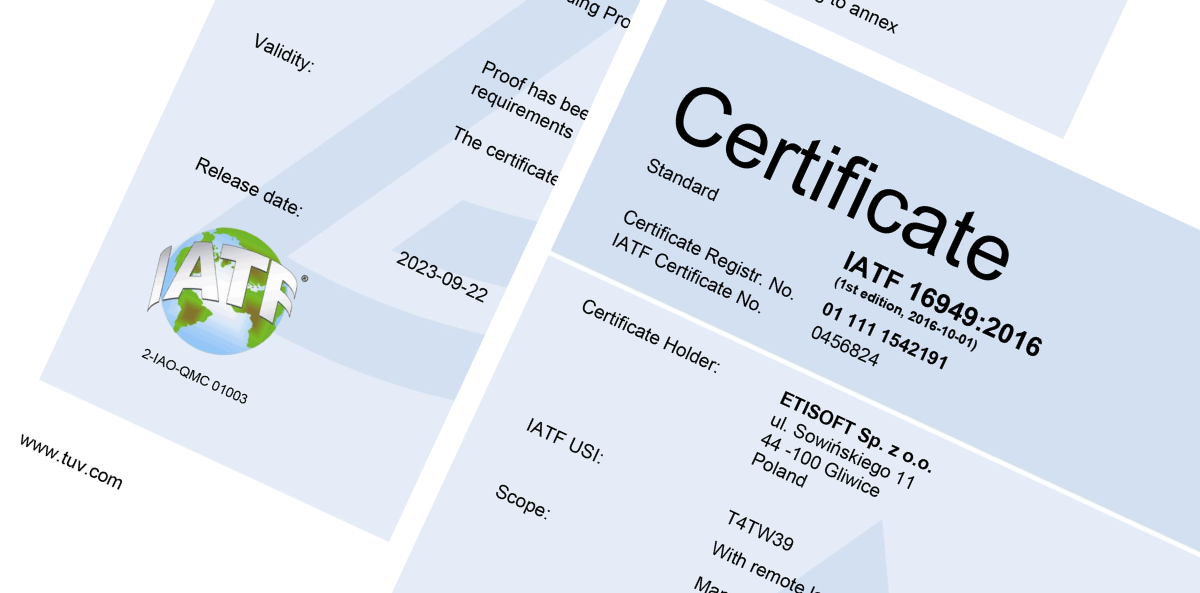 IATF 16949:2016 certification – Etisoft after the control audit
13 Nov 2023 - Joanna Heler-Kończakowska
The 1st control audit according to the IATF 16949:2016 standard, conducted by the representatives of TÜV Rheinland, is already behind us. As part of the audit, the effectiveness of the implemented quality management system for automotive-related companies, which has been in operation at Etisoft Sp. z o.o. since 2019, was verified. The scope of the certification of Etisoft includes the manufacture of self-adhesive labels, functional elements for marking, and automatic identification, protection and assembly.
This year's audit also included a new Etisoft's Logistics location at Diamond Business Park on ul. Leonardo Da Vinci 5.
Etisoft for automotive – check out what we offer!
The interviews conducted by TÜV Rheinland auditors with particular process owners and verification of process records in the documented information pointed out areas where, according to the auditors, improvement measures can be implemented. The measures that were taken immediately by the interdisciplinary team received positive feedback and approval from TÜV Rheinland.
The final outcome of the implemented measures was the receipt of the final report with positive results.
Why choose an IATF 16949:2016 certified supplier?
Benefits for the customer
There are many advantages. One of the basic aims is to establish quality requirements for quality management systems in companies that cooperate with the automotive industry. The most important things from the perspective of the whole organisation as well as the companies we cooperate with are:
Improvement of the image and reliability among customers in the automotive industry but also in other industries that are already based on the IATF guidelines
Flexible adjustment to the requirements and expectations of our customers.
Increase in the efficiency and effectiveness of the existing quality management systems and, what's interesting, also environmental management system since through the development of production processes we limit waste
Improvement of the quality of our products and services
Reduction of losses in the supply chain
Implementation of the process for the analytical establishment of casual connections of the occurrence of product faults and taking into consideration the risk factor in the analysis, the so-called FMEA.
Implementation of fixed quality control methods
Use of the APQP technology (i.e. Advanced Product Quality Planning) as a tool for planning, designing and developing products and processes.
As a final result, apart from the aforementioned benefits, we receive the most significant thing from the perspective of all of us, that is the increase in profitability of the conducted activity.