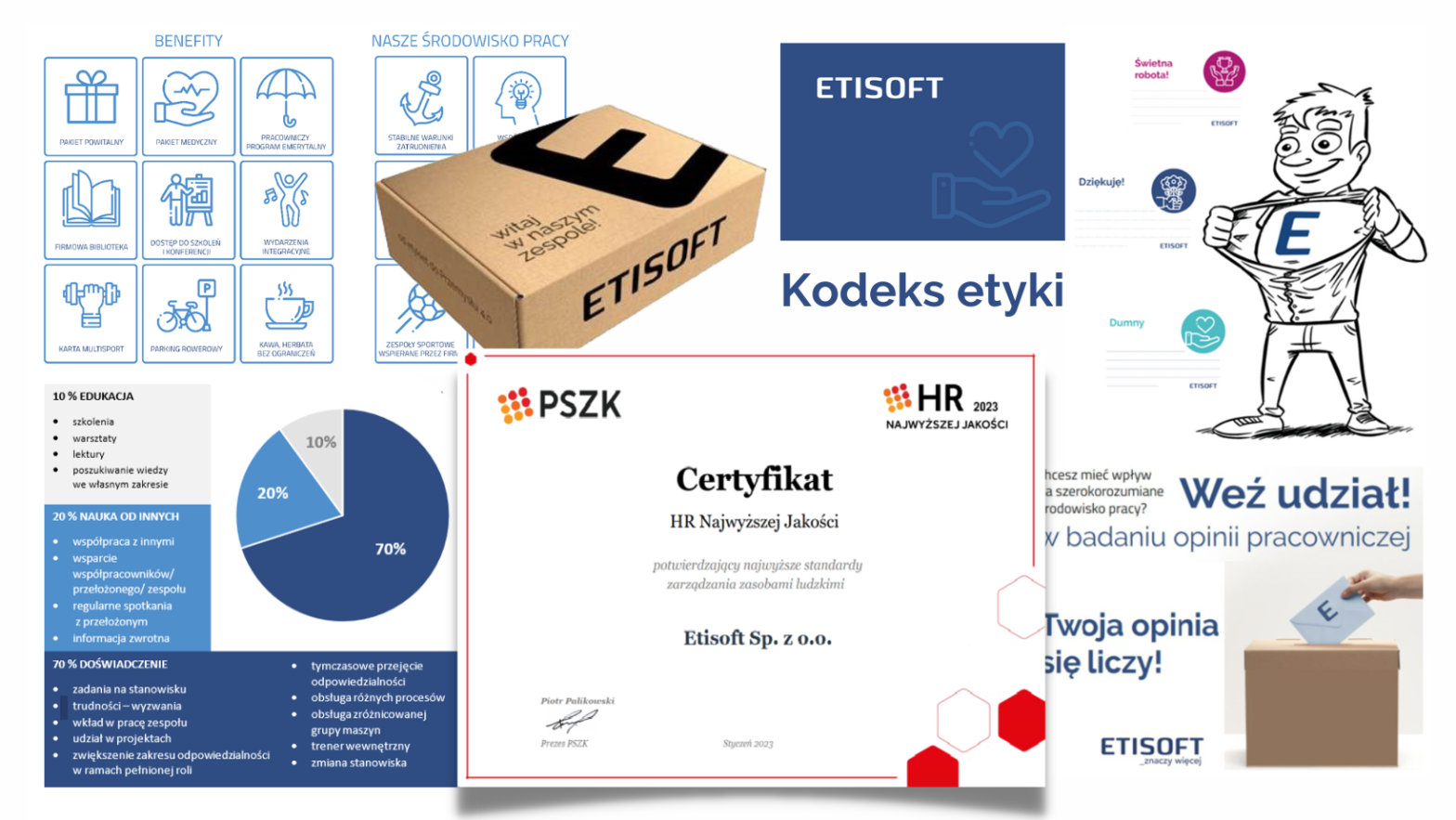 HR Highest Quality – Etisoft awarded once again!
19 May 2023 - Joanna Heler-Kończakowska
We are entering the year 2023 with news that makes us doubly happy! For the second year in a row Etisoft was awarded the HR Highest Quality certificate 2023. The first time we won the award, we wrote that it motivates us to do more – as you can see, we did not rest on our laurels!
The certificate is awarded once a year by the Polish Human Resources Management Association. It is awarded following a questionnaire survey covering all HR processes in the company and an in-depth analysis of a selected HR project.
"For this year's edition, we presented the project entitled 'Shaping positive attitudes in the organization'." This is a never-ending process, and the issue itself is a very vast and not easy one. It has instead a huge influence on the broader work environment, which is shaped by the employer as well as the employees themselves. Our objective is to create a friendly work environment where everyone feels good. The obtained certificate pleases us all the more. For us, it is a confirmation that continuous improvement, working on the quality of solutions provided in the field of human resources translates into results and is also recognized by experts," Agnieszka Aleksowicz, director of the Human Resources Division, emphasizes.
Thereby, our company was included in the outstanding group of 61 companies that were recognized for setting trends in managing human resources and promoting high standards of human resource management in Poland.
As the organizers emphasize, the HR Highest Quality certificate is a confirmation for employees and candidates that the company is a good, reliable, and trustworthy employer that applies the latest solutions in the field of human capital management.
The distinction earned confirms the direction we have chosen in the company's strategy: "Safe cooperation – continued development". This means that we focus on stable and long-term partnerships, building a team of professionals and pursuing continuous improvement in response to the needs of employees, candidates, and our business partners.
Congratulations and many thanks to our colleagues in the Human Resources Division – it is thanks to you that we are among the best!