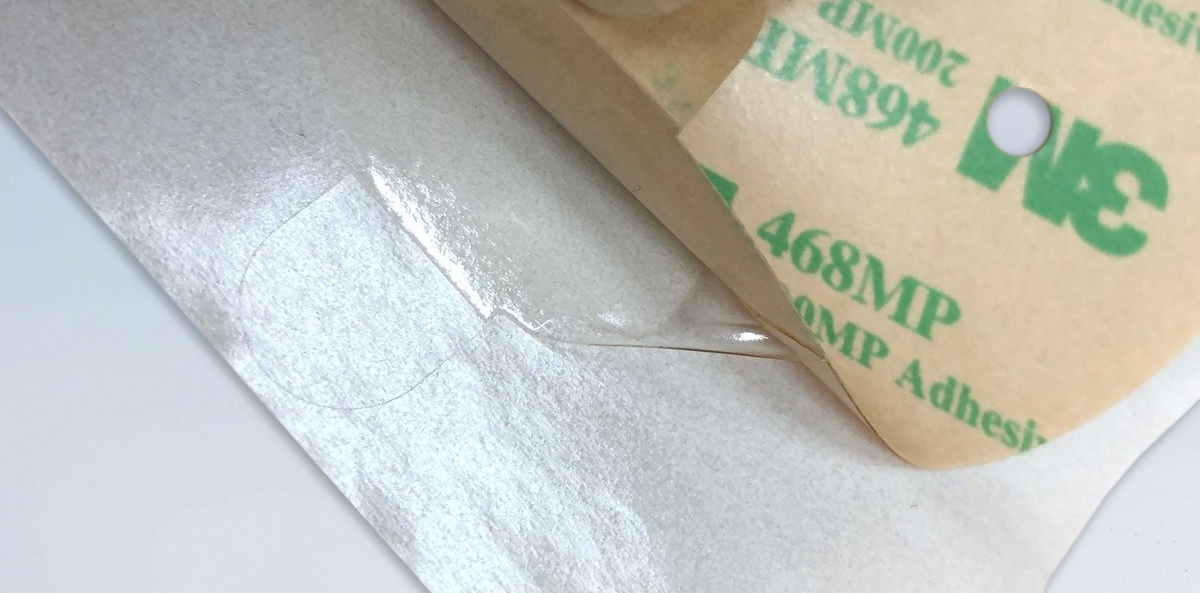 Bond, but with what? Adhesive film. Mounting tapes and die-cuts. Part 1
19 Nov 2021 - Aleksander Wolny
In my previous post 'To bond or to screw…?' I presented potential application areas for VHB adhesive tapes, and I outlined that they can successfully replace screwing in many cases. Today, the question is slightly different, 'bond, but with what?' What to choose: liquid adhesive, adhesive film, or double-sided adhesive tape? There is no clear-cut answer to this question. As I previously pointed out, there is no universal product when it comes to bonding a product, just as there is no universal adhesive. Everything depends on what we bond, in which conditions, in which conditions our bonding will operate and the stresses to which it will be subjected.
As I previously wrote, screw joints cannot be eliminated, nor can liquid adhesives, but in many cases, they can be replaced with double-sided adhesive tapes, or adhesive film can also serve as an alternative.
Adhesive film – what is it?
It is a special type of double-sided adhesive tapes in the form of a thin, transparent layer of acrylic adhesive that does not have any backing. Of course, the adhesive is applied to a backing paper, the so-called liner, so that it can be used or processed.
The adhesive film is simply a homogeneous adhesive which makes it very difficult, if not impossible, to be removed once it has been applied to the surface of the element. It is simultaneously very resistant to high temperatures, weather conditions and UV radiation. The available thickness ranges from several dozen to one hundred and several dozen microns. Adhesive films are available in the form of continuous tapes with a width from several to several hundred millimetres, and mounting die-cuts prepared for specific projects.
We can find many solutions on the market. In this article I would like to pay attention to a few products from a wide range of 3M adhesive films.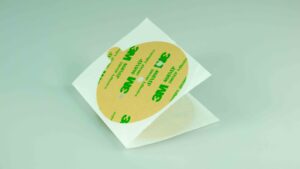 3M 467 and 468 adhesive films with 200MP adhesive are probably the most recognisable example of this type of products because of their characteristic green print on the liner. The adhesive is dedicated to high energy materials.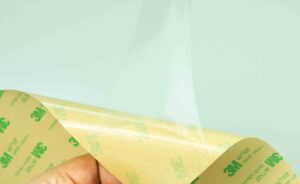 3M adhesive films with 300LSE adhesive are products designed for bonding low surface energy materials (e.g., ABS).
The above-mentioned adhesives are characterised by high transparency and high resistance to temperature, chemical reagents, and ageing processes. They are used as an adhesive layer in many types of functional elements, control panels and faceplates in many industries such as automotive, aviation, electronics, electrical, medical, or household appliances.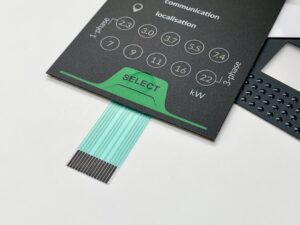 The products are also used as an adhesive layer for labels and markings, e.g., metal nameplates (3M 468) or labels for marking reusable plastic containers (300LSE).
3M Scotch ATG products are an interesting proposition. It is a group of several types of adhesive films with different parameters, available in three widths 6 mm, 12 mm, 19 mm, with a dedicated manual dispenser to facilitate application. These products are an excellent option for less demanding applications. Referring to 3M materials, these products are used, among other things, for sticking photographs, leaflets, product samples, for bonding folders, fixing documents, sealing small boxes.
Mounting tapes and die-cuts from adhesive films – advantages
Besides the properties of the resulting bonding, a few additional advantages relating to the use of mounting tapes and die-cuts made of adhesive films can be identified:
an even layer of adhesive over the whole product surface
adhesive adapted to curved surfaces
during bonding the adhesive does not flow out of the elements being bonded
possibility of using automatic or semi-automatic applicators or dispensers
little waste – backing paper.
It is worth adding that bonding using mounting tapes and die-cuts made of adhesive films is clean and simple.
In the next part of 'To bond, but with what?' we will concentrate on thin and thick (foam) double-sided adhesive tapes.
If this topic is interesting for you and you think that this solution could prove useful in your company, please contact us.